5 Bathroom Design Trends For 2022
Posted on December 10, 2021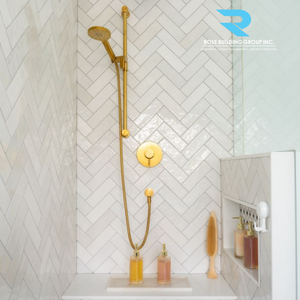 Our homes are becoming increasingly personalized spaces. We invest in beautiful furnishings and decor to create a warm and inviting atmosphere, so why shouldn't we do the same for the rooms that we use each and every day?
The bathroom is a multifunctional space. It is an essential part of our day-to-day lives, and as such, it is crucial that we spend time getting it just right. As we inch closer to 2022, the need for quality bathroom renovations in Burlington has never been more important.
The latest trends home renovation in Burlington show that bathroom space is one of the most 'liked' features of a home. According to a study by Houzz, upcoming renovation trends show that bathrooms should be bigger and incorporate floor-to-ceiling windows to give them a spa-like feel. Modern homes will continue to see renovations that prioritize indoor-outdoor flow, coupled with modern design elements to create seamless transitions between the two.
The bathroom design trends of 2022 will be focused on creating a space with both form and function, incorporating the best of modern luxury without skimping on the basics.
Without further adieu here are the top Bathroom trends of 2022.
1. Reimagine the Two-In-One Shower And Bath
The two-in-one shower and bath concept has been extremely popular in the bathroom space over the years. This idea is now being reimagined based on the fact that having a separate shower and bathtub takes up to much space for many of today's homeowners. The new concept is taking inspiration from luxury spas and creating a walk-in shower with a tub. This bathroom renovation design makes the bathroom more accessible and also allows for more storage.
2. Dual Shower Heads
Twin shower heads are becoming the next big trend in bathroom renovations. They're simple to install, cost-efficient and can really change up the functionality of the bathroom with minimal expense.
TIP: If you want to keep things as minimal as possible, try installing two shower heads that don't vary too much from each other. If you want something a little bit more adventurous or if you want to add a unique twist to your bathroom, go for a completely contrasting shower head design.
3. Glass Enclosed Showers
Among the latest trends in bathroom design, we're seeing more and more luxury brands going for a frameless glass enclosure in the shower. The biggest advantage of a frameless glass enclosure is unique design possibilities. The lack of a frame makes it possible to use completely smooth, flat sheets of glazing, resulting in beautiful panes of glass that are literally invisible when viewed from outside the shower. It also creates a sleek, streamlined look that you don't get from bathtubs with frames or from bathtub enclosures with built-in seats.
4. Stand Alone Tubs
In recent years, homeowners have been drawn to stand-alone tubs. They bring a unique style and elegance to any bathroom, creating a luxurious yet unobtrusive spa-like feel that many owners covet. In the latest bathroom design trends for 2022, these tubs will become even more popular, with more homeowners looking to get rid of the shower and install a combination unit or just a standalone bathtub.
5. Freestanding Basins
Freestanding basins are becoming a popular choice in bathroom renovations among Burlington homeowners and builders. Compared to the standard built-in design, these ones are easier to install, adds character to your space, and have a refreshed feel. The freestanding basin is a simple, yet functional element and can be custom-made to fit any space.
Some bathroom trends can fall in and out of style quickly, while others will stand the test of time. If you're thinking about a bathroom renovation in Burlington, pay attention to what's popular, and understand the difference between a fad and a new trend. It will save you a lot of time and money (and even energy) if you take the trendiest styles into consideration as you're planning your renovation.
Talk to the specialists at Rose Building Group today about how they can bring a high-quality bathroom renovation to your Burlington home.