Home Renovation & Remodel Contractors Milton
Are you tired of your traditional layout? Do you daydream about your perfect home? Transform your home into your personal sanctuary with top-tier home renovation contractors in Milton.
Bring your Vision to Life | Customize Your Home | Live Comfortably
At Rose Building Group, we'll help you make your vision a reality using modern design trends, high-quality materials, and impressive workmanship for the best home renovations in Milton.
Full Home Renovations | Bathroom Renovations | Kitchen Renovations | Basement Renovations
Full Home Renovations
Revolutionize the look and feel of your space with home renovations in Milton. Whether you want a spiral staircase, a built-in fireplace, or brand-new lighting, Rose Building Group is your go-to home renovation contractor in Milton. Out with the old; in with the new!
Our team of experts at Rose Building Group, we can:
Upgrade and personalize your home
Install heating systems
Install various types of flooring
Remodel or resurface your staircase
Install Fixtures
And more!
Ready to reconstruct your home? Talk to a home renovation professional now.
Bathroom Renovations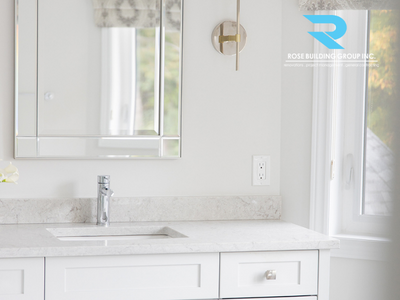 From getting ready in the mornings to winding down in the tub at night, your bathroom plays a crucial role in your day. Our team of contractors in Milton can customize your space to maximize hidden storage space, minimize clutter, or brighten walls to make the room feel more spacious with luxury bathroom renovations in Milton.
Ways You Can Upgrade Your Bathroom:
Layout: The layout of your washroom can be changed, regardless of how big or small. We do everything from demolition down to the original framing to installing new drywall. We want to bring your visions to life.
Flooring: Customize your flooring to match your newest renovations! We offer many types of flooring, with various colours and patterns to choose from.
Design: Refresh your area with new paint, curtains, or mirrors. Or go even further by changing the design of your shower, tub, or sink. There are many ways to amp up your bathroom with modern or contemporary designs that leave the room looking extraordinary.
Start upgrading your bathroom today.
Kitchen Renovations in Milton
You know what they say, food is the way to the heart… or maybe it's your kitchen.
We spend most of our time in kitchens, from cooking to eating to cleaning and talking; a kitchen is an all-around place for family and friends. Upgrade your home with a kitchen renovation in Milton that you'll love to show off.
Do You Want?
Customized Designs: Maybe you prefer an open concept kitchen, an island with a sink, or a complete demolition; our team has what it takes to revamp your cooking and eating space.
Better Lighting: You want to see clearly with brighter lights in your kitchen than in your standard rooms. Modern lighting can make a huge difference and will illuminate your culinary space.
Functional Storage: Finding pots in pans in an unorganized cupboard makes cooking a burden. Not being able to locate items and put them away effectively makes your kitchen cluttered. With functional storage, there's a place for everything!
Just ask Rose Building Group.
Basement Renovations
Need an escape from the upstairs world. Turn your basement into the place to be. Renovate your basement to double as a living room or anything in between! Not only do renovated basements look great, but it also increases your property value.
Why Upgrade Your Home with a Basement Renovation in Milton?
Increase Your Home Value: Not only does the value of your property increase, but it looks more appealing to potential buyers.
Rent Out Your Basement: If you're not planning on selling now, a basement renovation can allow you to rent your basement out for extra cash.
Improved Storage Space: If you're like most people and use your basement for storage, Rose Building Group has the tools to create designated storage spaces that you'll want to use. Forget clutter and mess and say hello to organization and cleanliness.
Why Choose Rose Building Group in Milton?
Rose Building Group is your trusted team of home renovation contractors serving Milton, Hamilton, Burlington, and other cities in Southern Ontario. We specialize in basements, kitchens, bathrooms, and complete home renovations. Renovations can be stressful. We're here to help from start to finish. From planning and designing to implementation and completion, we manage the entire extent of your renovation project, leaving you stress-free.