Home Renovation & Remodel Contractors Hamilton
Remodel your place into your dream house with the best home renovation contractors in Hamilton.
Personalize Your Home | Design Your Layout | Love Your Space
Do you want to transform your old home into a modern, contemporary layout and design? At Rose Building Group, we take pride in our high-quality materials and exceptional work. Our team of professionals will make your dreams a reality with modern home renovations in Hamilton.
Bathroom Renovations | Basement Renovations | Kitchen Renovations | Full Home Renovations
Bathroom Renovations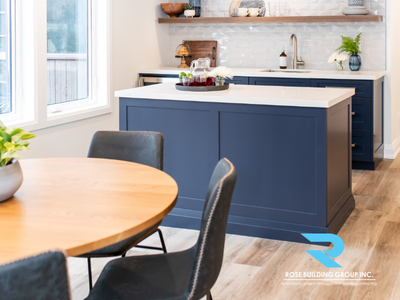 Your bathroom is a room that you visit multiple times a day to do everyday tasks such as showering, brushing your teeth, or grooming.
Wouldn't you like to enjoy the room you're spending a significant portion of your day in? Revamp your traditional bathroom with modern and contemporary layouts and designs with innovative and modern bathroom renovations in Hamilton. Choose different lighting and flooring types, or even customize your shower or tub!
Ways to enhance your bathroom:
Add New Light Fixtures
Refurbish Your Flooring
Customize Your Bathtub or Shower
Design an Open Layout for More Space
Install Storage Spaces to Organize and Reduce Clutter
Achieve a Modern or Contemporary Look
And more!
It's time to start upgrading your washroom today with Rose Building Group.
Basement Renovation
Are you tired of using your basement as a storage room and ready for an upgrade? After all, you deserve a reliable home renovation in Hamilton.
Looking for a place to sit back and relax? Basement renovations in Hamilton are a great option. Whether you're looking to increase your property value, install a kitchen, rent out your basement, or just want a finished basement, a basement renovation is perfect for you.
Increase Your Property Value: Did you know that a house with a finished basement has a much higher chance of selling for the asking price than an unfinished one? Property buyers love finished basements because they can double as any type of room you please. Also, many people choose to rent their basement out for extra cash. If you are interested in selling or renting out your basement, a restoration is ideal for getting the value you deserve for your house.
Upgrade Storage Spaces: Basements can become a considerable room to throw down random items and clothes. When you modernize your house with Rose Building Group, we can customize storage spaces that are organized and hidden, giving it a clean and sleek aesthetic. Say goodbye to a cluttered storeroom and hello to organized storage.
Personalize Your Basement: No matter what you're looking for, there are several ways you can personalize your basement. Whether you want to install a kitchen or bathroom for renters or make it your own movie theatre, we've got you covered with expert renovations in Hamilton.
Schedule a consultation to finish renovating your basement today!
Kitchen Renovations
The kitchen is an all-around room that is enjoyed by the whole family. Whether you're cooking, cleaning, eating or entertaining, it's important to enjoy the kitchen space you have. If you're bored of traditional layouts and design, look no further than the leading home renovation contractors in Hamilton at Rose Building Group. Kitchen remodelling is an excellent way to freshen up your room and keep it looking and performing at its finest. Kitchen remodelling aims to alter or enhance the appearance of your space. If you want to refresh your kitchen with some upgrades rather than renovating the entire room, remodelling is the best choice for you. Ameliorate your flooring, cabinets, shelving, and more for outstanding results.
Wall and Ceiling Remodeling: Your walls and ceilings are the foundation of your house, and they are seen in every room. In your kitchen, walls and ceilings are vital to making the space look great. If you want to renovate your kitchen or change the layout, Rose Building Group can do wall and ceiling remodelling to enhance the appearance of your property.
Sinks and Faucets: Even the most minor changes upgrade the value of your room. Though sinks and faucets are a small detail of the kitchen, they make all the difference. Transforming from an older, traditional faucet and sink to a new, modern sink and faucet will add a quick and easy pop to your space.
Start Designing Your Dream Kitchen!
Full Home Renovations
Complete home renovations don't have to be stressful when working with a credible contracting company. Bring your visions to life with a home renovation company in Hamilton that you can trust. The experts at Rose Building Group have what it takes to make you fall in love with your house all over again.
With Rose Building Group, You Can:
Plan your design with the help of experts from start to finish
Install heating systems throughout your place
Ceiling, wall, or floor remodelling
Plan your strategy with the help of experts from start to finish
Make your space look brand new
And much more!
Transform your house into your dream home!
Why Choose Rose Building Group
When renovating your house, you want to work with a trusted, organized group of professionals who value perfection. Rose Building Group has provided exceptional customer service and satisfaction for over 14 years in Hamilton, Milton, Burlington, and other surrounding cities in Southern Ontario. Our main priority is to give you affordable, good-quality renovations that make you love your home in Hamilton.