Home Renovation & Remodel Contractors Oakville
Turn your house into your dream home with home renovation contractors in Oakville you can trust.
Customize Your Layout | Maximize Your Space | Personalize Your Home
Are You Looking to Reinvent Your Space? Want to Update Your Layout for a More Contemporary Feel?
With Rose Building Group, you can transform your Oakville home. Stop imagining your dream home and start living in it with home renovations in Oakville & Rose Building Group.
Kitchen Renovations | Bathroom Renovations | Basement Renovations | Full Home Renovations
Kitchen Remodels
The kitchen is the heart of your home. It's not just where your day starts or ends. With home renovations in Oakville for your kitchen, you can upgrade your kitchen so it's functional while also serving as the perfect backdrop for your day-to-day life.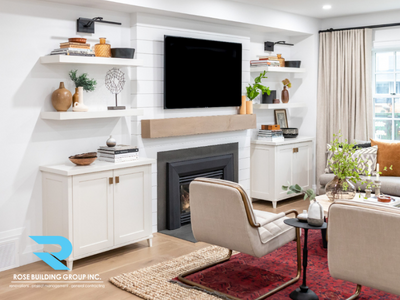 With the Rose Building Group team of home renovation contractors in Oakville, you can:
Customize Your Kitchen Design & Layout: Add an island, upgrade your backsplash, tiles, cabinets, and more.
Enhance Lighting: Illuminate your kitchen and dining areas with strategically incorporated lighting features that improve your culinary and dining experience at home.
Level-Up Your Storage: Upgrade storage with new pantries, cabinets, cupboards, and drawers with space-saving and modern features that are functional and bound to impress.
Want to Show Off Your New Kitchen? Start Your Renovation Plans Today!
Bathroom Renovations
From taking a shower and getting ready for the day ahead to hosting guests, your bathroom is a key room in your home. Design a custom space that makes sense and dares to impress. With the right home renovation contractors in Oakville, you can add lustre to your bathroom, improving its look and feel while increasing storage and functionality for ease and convenience. At Rose Building Group, we'll help you work out the perfect design for your style and floor plan.
How Can You Upgrade Your Bathroom with Home Renovations in Oakville?
Update Fixtures: Remove outdated fixtures, from inadequate plumbing and wiring to old faucets, for a high-functioning bathroom that you, your family, and your guests can rely on.
Refresh Design: Create a comfortable and inviting environment with new paint, tiles, backsplashes, cabinetry, and more. Take it up a notch with heated flooring and granite countertops.
Custom Showers & Baths: Add a little luxury to your bathroom, install beautiful rainfall showers, freestanding or skirted bathtubs, custom glass showers, body jets, and even steam showers.
Design Your Luxury Bathroom Today.
Basement Renovations
Whether you've been leaving your basement unfurnished or you're ready to give it new life, the basement has tons of potential when in the right hands.
Looking to add new living space, a new kitchen, a home office, or a multi-purpose room? Basement home renovations in Oakville are perfect for you.
Finish Your Basement: Add drywall, paint, new flooring, and rooms to turn it into a fully operational space in your home that you can rent or use at your own leisure.
Improve Storage: Take your extra furniture, belongings, and souvenirs you've collected over time and reorganize them with easy-to-manage storage systems that simplify storing and searching through your stuff.
Customize Your Home: With Rose Building Group, you can transform your basement with our team of expert home renovation contractors in Oakville to support your lifestyle and hobbies. Add a home office, theatre, or gym and maximize the functionality of your home.
Ready to Upgrade Your Basement? Talk to a Home Renovation Expert Now.
Why Choose Rose Building Group in Oakville?
Rose Building Group is a 5-Star home renovation contractor serving Oakville, Hamilton, Milton, Burlington, and elsewhere in Southern Ontario. We use industry expertise, innovative design, and custom solutions to help you make the most out of your home. Whether you're looking to add value to your house, design your dream home, or make your house more functional, Rose Building Group can help.