Home Remodels and Renovations In Burlington
Professional home, bathroom, basement, and kitchen renovation services in Burlington.
Stay In Your Neighbourhood | Customize Your Home | Create More Space
Kitchen, Bathroom, And Basement Renovations In Burlington
As a professional home renovation company in Burlington, we work hard to make your dream home a reality. The home renovation contractors at Rose Building Group are experts in home renovations, bathroom and kitchen renovations, basement finishing, and basement refinishing. Our expertise is based on more than 16 years of experience in the industry. We're committed to customer satisfaction above all else, so you can be assured that our team will deliver nothing short of the best service possible.
As Burlington home remodelling contractors, we have remodelled hundreds of homes in the Burlington, Oakville, and Hamilton areas. We provide experienced professionals who guarantee the highest quality of workmanship, combined with a commitment to customer service at affordable prices. We take pride in what we do.
Kitchen Renovations In Burlington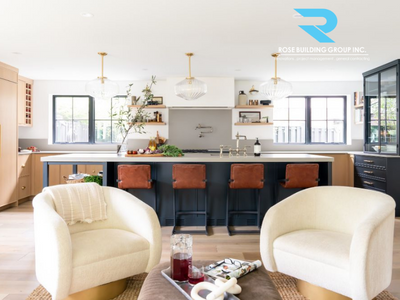 Kitchens are the heart of the home. Rose Building Group has helped many homeowners create their dream kitchen.
When you think of kitchen renovations, you may picture kitchen cabinets, countertops, and appliances. However, these are just a few important aspects of your home in Burlington. You also need to consider flooring, lighting, backsplash, and more.
These elements add personality to your kitchen, making it unique to you. We will help you achieve your dream kitchen within a perfect timeframe for you.
Bathroom Renovations In Burlington
As experts in bathroom renovations in Burlington, we know how to transform your ordinary bathroom into an extraordinary one. We can help you create a luxurious spa-like retreat or a functional and practical space that meets all your needs. Whether you're looking for a complete makeover or just need to update your fixtures and fittings, we can help.
Our team of experienced home renovation contractors in Burlington will work closely with you to ensure that your vision for your new bathroom becomes a reality. And because we use only the highest quality materials and craftsmanship, you can be sure that your new bathroom will stand the test of time.
Basement Renovations In Burlington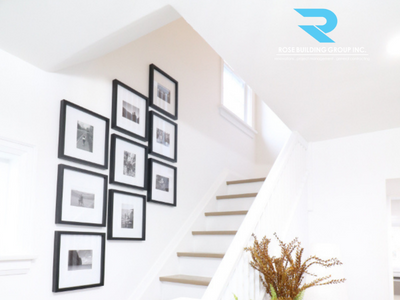 If you want to complete a basement renovation, then Rose Building Group is the company for you. We make finishing your basement simple and stress-free with our streamlined processes, simple contracts, and reliable craftsmanship.
Whether you are looking to create a space for your kids to play or a place for your business office, we have the expertise and experience to help you along the way.
We know that finished basements are a significant investment for homeowners, and at Rose Building Group, we're here to help with everything from design, to permits, to construction.
Full Home Renovations In Burlington
Rose Building Group provides a full range of services designed to enhance the value of your home. No job is too big or too small.
We operate with a streamlined process to get you the most out of your investment while on a budget and adhering to an ideal timeframe. Our 1-year warranty on all workmanship provides peace of mind for all our valued customers. We provide permits, city building permit coverage, and liability insurance.
Benefits Of Home Renovations
Remodelling your home can be a big project, but it offers many benefits. Here are the top reasons to renovate your home.
1. Increase Value
A home renovation can help you add value to your home. One of the most common methods is renovating your kitchen or bathroom, which also adds more functionality to each area. If you're looking to sell your home, improving these spaces will go a long way toward getting you the price you want for your house.
2. Add More Space
Open floor plans are all the rage in new home design, but if you don't have room for one in your current home, adding walls is a great way to separate spaces from each other - or even turn a room into a brand-new room! Adding a study or office or sunroom can really open up the rest of your house and make it feel bigger overall.
3. Make Rooms More Functional
Whether you want more storage space, a DIY wine cellar for your collection, or just need some more counter space to prepare food, there are plenty of ways that renovating can meet your needs.
Professional Home Renovation Contractors
We understand that your home is one of your most valuable assets. That's why we approach every project with the utmost care and attention to detail. We are extremely professional and offer the right skill sets to ensure your renovation process is on time, on budget and to your satisfaction.
Contact us today to learn more about how we can help you transform your home into your dream space.