5 Fun Ways You Can Transform Your Basement
Posted on July 24, 2022
Despite being underground, the sky's the limit when it comes to your basement. Basements are functional blank canvases that can become whatever you and your family need and add to your home's property value. Basement remodelling gives you a chance to let your creativity soar when it comes to designing while also giving your home a valuable space that works for you. Sure, basement renovations can be a lot to take on. That's why it's critical to work with well-seasoned pros that know what they're doing, like the home renovation contractors at Rose Building Group.
Here are 5 Ways You Can Get the Most Out of Your Basement Remodel.
Home Theatre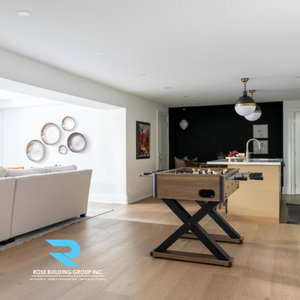 Does your family love movies? Are you all about catching up on juicy TV together? Then maybe it's time to take that basement from unfinished to home theatre! To ensure your space is free of distractions, knowledgeable expert home renovation contractors like those at Rose Building Group can help you spot any possible issues. That way, you can avoid any distractions to your Netflix Binge Sessions.
Game Room
If sitting in front of your TV just doesn't sound like your thing, try a game room! Whether you're looking for a space filled with old-school arcade games or hoping to make a room dedicated to your e-sports pursuits, basement remodelling is the perfect time to make your dream game room.
Extra Rental Unit
If your priority is making additional income, then you should consider renovating your basement as an extra rental unit. Though there's certainly plenty to consider when you're making a brand-new living space, like remembering to bring in plenty of lighting fixtures to make your area bright or to use the correct materials that will keep your unit cool in the summer and warm in the winter. Luckily the team at Rose Building Group has thorough experience in remodelling basement units to create cozy but trendy living spaces that are sure to make finding renters a piece of cake.
Home Bar
If entertaining is more your speed, do it in style with a home bar. Create a trendy and welcoming space that your guest will love as much as you do. With design tips from Rose Building Group, you can build a space that fits your style while maintaining a timeless appeal so that you can entertain for years to come.
Home Office
Home offices are quickly becoming a must-have in every home. By renovating your basement into a home office, you can create your own space for concentrating that avoids the usual distractions of most home offices. Give yourself a better work/life balance by creating a clear space for work that you can leave behind at 5pm. Plus, you can't beat the commute!
Choosing the Right Home Renovation Contractors
Without a doubt, a properly finished basement does wonders for your home, both physically and monetarily. However, it's no easy feat – that's why working with experienced professionals is so important to help you find that balance between your trendy dreams and your practical needs. Rose Building Group uses their years of experience to give you the basement remodeling you've been looking for.
Call us to start planning your basement renovation.