Avoid These 8 Kitchen Renovation Mistakes
Posted on March 08, 2021
When your kitchen is outdated and non-functional, it can make it a dreary place instead of the heart of the home. Renovating a kitchen is an exciting project for any homeowner and can be a great investment for your property value. However, kitchen renovations can be expensive and time-consuming, often disrupting your life while you are unable to use the space. So, it is essential to get it right the first time and find the best kitchen contractors for renovations. Here we have summarized the most important mistakes to avoid when it comes to home kitchen renovations and how to find the best home renovation contractors.
1. Have A Plan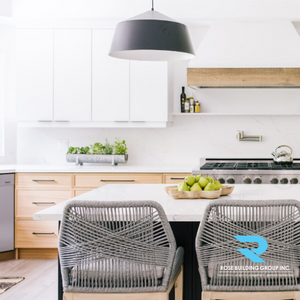 When considering a kitchen renovation, it is crucial to start with you and your family. How do you use the kitchen? What are you missing? Do you spend lots of time in the kitchen, or is it mostly used for cooking? Before contacting a contractor, you will want to consider your new kitchen's vision and the types of changes you are hoping to integrate. Kitchen contractors or home renovation contractors can then help you develop a detailed plan for your renovation to ensure that your vision becomes a reality.
2. Create a Budget
Kitchen renovations can be expensive, and it is important to create a budget and stick to it as much as possible. Kitchen contractors can help you develop a realistic budget that accurately reflects everything you want in your new space. With a detailed plan and a thorough budget, you will be ready to tackle your upcoming kitchen renovation.
3. Hire a Professional
One of the most common mistakes homeowners make when it comes to kitchen renovations is attempting the project independently. Even if you are an experienced DIYer, professional kitchen contractors can help you develop a detailed plan and offer tips and advice for the building process. Many home renovation contractors will also be able to offer ideas you may not have considered for your new kitchen. With professional advice, you can ensure your new kitchen will be well-built and thoroughly planned to last through years of use.
4. Consider the Utility of the Space
When designing a kitchen, many homeowners focus on the space's aesthetic and forget to consider the workflow. Not all kitchen areas are used equally, and in most homes, the fridge and sink or the two busiest locations. When designing your new kitchen, you will want to make sure it is laid out in a logical manner that takes into consideration your family and how you use the space. Home renovation contractors can also help provide ideas and designs for beautiful and functional kitchens.
5. Don't Scrimp on Counters
Kitchen contractors and chefs alike know that you can never have too much counter space. When designing your new kitchen, make sure you can maximize your available counter space or even consider adding an island to expand your work area.
6. Prioritize Your New Appliances
Another common mistake among homeowners is choosing their new kitchen appliances as the final step of their renovation. Instead, it is much easier to select your kitchen's other design elements, including the cabinets, counters, and tiling, once you have picked your appliances.
7. Storage is Key
If there is one thing kitchens always need, it is storage. Whether it is for counter-top appliances, dishes, glassware, food, or pantry items, many things get stored in a kitchen. Thankfully, kitchen contractors are experts when it comes to integrating creative storage solutions into a kitchen design. This can also help you make the most of your kitchen space with a cupboard above your fridge, a small cabinet for cutting boards, or even designated pantries and storage closets. You will be able to enjoy your future kitchen without worrying about where you will place your food and dishes.
8. Be Creative
Your kitchen is a central part of your home and should reflect your personal design style. When designing a new kitchen, many homeowners forget that it is a chance to be creative and personal with their new space. This could include a pop of unique colour in your backsplash or a well-organized walk-in pantry. There are plenty of ways to integrate unique and functional design elements into your new kitchen, and kitchen contractors can help you make that vision a reality.
For kitchen renovations in Burlington, Hamilton, Oakville, and the surrounding areas, Rose Building Group is a professional contracting company with years of experience. Matthew Rose and his expert team of skilled, licensed, and professional tradespeople have a passion for high-quality home renovations. Their team offers everything from kitchen renovations to full home remodels. Easily get a free consultation on any home renovation project by contacting Rose Building Group at 905-466-8884. They even offer complimentary on-site visits as part of the quote process to ensure they have a firm grasp of the space and its potential. Their team will then work with you and your family to make your renovation dreams come true. With customized designs, the Rose Building Group's kitchen contractors provide unparalleled build quality and provide a one-year warranty on all their projects. There is no better time than now to invest in your home with a brand-new kitchen.