Bathroom Renovation Ideas For Homeowners
Posted on November 15, 2021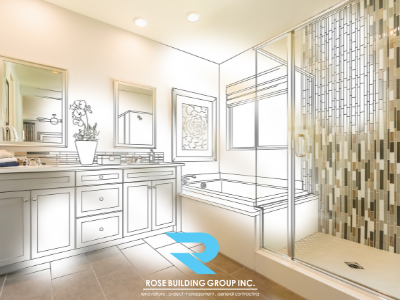 One of the most essential rooms in any home is the bathroom. A properly designed and decorated bathroom is a relaxing place that allows you to unwind after a long day. When considering undertaking a bathroom renovation in your Burlington home, many aspects of a bathroom can be upgraded or changed to make a big difference.
Whether you're planning a complete bathroom remodel or looking to replace some countertops and fixtures, we've rounded up some great ideas for any bathroom renovation. Hopefully, some of these excellent bathroom renovation ideas might inspire you to contact a home renovation company in Burlington like Rose Building Group.
Small Changes Can Make A Big Difference
If there is no clear way to transform an existing bathroom without demolishing the room entirely, you might be able to make some small renovations that can make quite a significant impact.
1. Complementing Fixtures
Bathroom fixtures, such as the faucets and the bathroom sink, can be easy indicators of the budget spent on a bathroom renovation in Burlington. For a luxurious look with modern flair, pair brass finishes (or chrome) with marble countertops or have tile work on the floor match that the design on the wall.
2. Upgrade Your Bathroom Vanity
Many bathrooms have a small sink that sits on a countertop. If you wish you could have more room for family members to get ready at one time, a vanity is a perfect solution.
Some bathroom vanities feature a sink, open space, and drawers to keep your beauty products handy. Other vanities have additional storage space to hold towels, toiletries, and other items close at hand. With a bathroom vanity, you can easily decorate your bathroom with colours and designs that match your décor throughout the rest of your home.
3. Bathroom Drawers
Pull-out shelves below the vanity are perfect for storing clean towels. This storing solution isn't just good for families with kids; we've seen these implemented into some luxurious bathrooms by adding baskets and open shelving to match towel colours or patterns that can complement the drawers.
4. Backsplash
The backsplash in a bathroom is a unique way to make the space feel larger while still maintaining a cohesive style. If there is no room to expand the bathroom, you might be able to add a unique backsplash or change up the countertops to introduce an added level of luxury to your bathroom.
Final Word
Bathroom renovations are a trendy type of home renovation project that more and more Burlington homeowners are choosing to invest in. There are many aspects of a bathroom that can be upgraded and changed. Whether you're planning a complete bathroom remodel or looking to replace some countertops and fixtures, there are many benefits to investing in a bathroom renovation. Contact the Rose Building Group bathroom contractors today to get started!