Bathroom Renovations Trends To Increase Your Property Value
Posted on May 10, 2022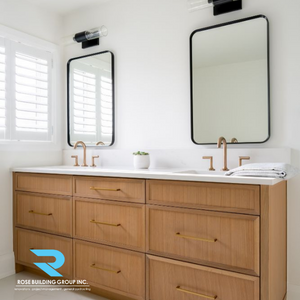 Bathrooms and kitchens are the most important sections of the house both from a practical and an aesthetic perspective. As any home renovation company can tell you, a newly renovated bathroom and/or kitchen can be a pivotal factor when selling your home. As such, bathroom renovations are one of the most popular types of home renovations.
While a bathroom renovation can quickly amount to an expensive renovation project, the return on your investment is immediate. With the right combination of aesthetic and functional improvements, you'll be able to sell your home for significantly higher than it would have been worth otherwise.
Bathroom Renovation Trends With A Big ROI
Even without undertaking a complete bathroom renovation, by simply adding a few quality fixtures and finishing touches, you can substantially increase the value of your home while at the same time improving its functionality.
However, a bathroom remodel done by a reputable home renovation company like Rose Building Group could lead to an increase of 10-20% in the offers you receive for the sale of your home. The following is a list of 8 bathroom renovation trends that will add value to your home:
1. Adding A Double Sink
If you have the space, adding a second sink is a great way to increase the value of your home. Not only will it make your bathroom more functional, but it will also make it more luxurious.
2. Upgrading To Radiant Floor Heating
This is a particularly popular trend in Europe and is slowly making its way over to North America. If you're planning on doing a complete gut renovation of your bathroom, then this is definitely something to consider. Not only does it add value to your home, but it's also extremely comfortable.
3. Installing High-End Finishes
Whether it's marble countertops or custom cabinets, adding high-end finishes to your bathroom will definitely increase its value. However, it's important to strike a balance between luxury and practicality – too much of either one can actually decrease the value of your home.
4. Going Green With Your Fixtures
Energy-efficient fixtures are becoming increasingly popular in both bathrooms and kitchens. From toilets that use less water to showerheads with built-in water filtration systems, there are many different ways to make your bathroom more environmentally friendly. Not only will this help reduce your monthly utility bills, but it will also add value to your home as more and more buyers are looking for eco-friendly features.
5. Tiled Showers
Bathroom showers are changing. Tile is becoming more popular, shower doors are disappearing, and even bathtubs are going out of style. Tile gives your bathroom a luxurious look, and by choosing a fashionable colour, you can add some much-needed style to your home. If a tiled shower is too expensive for your budget, you can still upgrade your shower by painting the tiles or adding a tile mural to your walls.
6. Adding A Rain Shower
A rain shower is a great way to add both value and luxury to your bathroom. Not only will it make your bathroom more enjoyable to use, but it will also impress potential buyers. If you're planning on selling your home in the near future, then a rain shower is definitely a good investment.
7. Installing A Heated Towel Rack
This is another trend that is becoming increasingly popular in Europe and North America. Heated towel racks are not only aesthetically pleasing, but they're also extremely practical. If you live in a cold climate, then this is definitely something to consider adding to your bathroom.
8. Upgrading Your Lighting
Bathrooms are often one of the darkest rooms in the house. As such, upgrading your lighting can be a great way to add value to your home. By installing higher quality light fixtures, you can immediately make your bathroom have a more inviting and luxurious feeling.
You may also want to think about incorporating layered lighting. A layer of lighting under the vanity is perfect for shaving or applying makeup in your bathroom. The layer can include recessed lights, track lights, as well as pendant lights.
If you are interested in increasing your home's resale value with a bathroom renovation, get in touch with the reputable home renovation company, Rose Building Group, today!