Benefits of Built-In Panel Appliances for Home Renovations
Posted on April 24, 2023
Home renovations in Burlington are an excellent way to add stylistic details to your living space. Homeowners often use kitchen, bathroom, bedroom, and basement renovations to customize their homes according to their tastes and current market trends, increasing personalization and even property value. If you're interested in luxury home renovations, you can completely customize your kitchen, from colours and materials to appliances and layout with the leading renovation contractors in Burlington and throughout Southern Ontario at Rose Building Group. In an effort to create a modern seamless kitchen experience, many homeowners have opted for built-in panel appliances. With guidance from the leading team for kitchen renovations at Rose Building Group you can elevate your kitchen design with built-in panel appliances.
Read on to explore the benefits of panel appliances for kitchen renovation.
Longevity of Cabinets & Appliances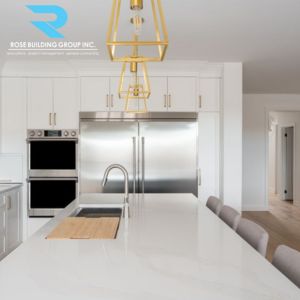 One of the advantages of installing built-in panel appliances is that they always stay in style. Investing in a top-of-the-line upgrade like custom panel appliances offers years of value, functionality, and visual appeal. Built-in panel appliances are a timeless upgrade, so you won't find yourself making more changes in the future to meet new appliance or cabinet trends.
Versatile Kitchen Upgrades
Another benefit of built-in panel appliances is that they are versatile and can work with all kitchen types, whether it's a sleek and modern or traditional kitchen. They can also come in various colours and styles, depending on what you want your kitchen to look like. You might even find your renovation contractor suggesting built-in appliances to help your kitchen save on space so you can incorporate more enhancements with the space available.
Luxury Home Renovations in Burlington
Built-in panel appliances are a premium upgrade for luxury properties. The built-in panels are exclusive to create as they are custom-built for your space. This high-level process involves fine craftsmanship, offering a seamless integration with the rest of the kitchen, as the sides of the refrigerator and stove blend evenly with the cabinets. The end product is beautiful and can satisfy the most picky of homeowners.
Increase the Value of Your Home
In most cases, all upgrades increase the value of your home or, at the very least, make it more attractive when it is put up for sale.
As mentioned above, built-in panel appliances are a premium upgrade that adds luxury to your home while also increasing your property value, making it more appealing to potential buyers. Often upgrades provide a more significant increase in the value of your home compared to their actual cost.
Remember, built-in panel appliances require extra care for installation and cabinetry, so you must use a high-quality renovation contractor. Rose Building Group is a highly skilled and qualified professional that can ensure top-tier quality on any project.
Upgrade Your Luxury Home Kitchen Renovation
Rose Building Group is a well-respected professional home renovation company in Southern Ontario. Rose Building Group has a team of hand-picked, talented professionals to bring your home ideas to life. We ensure to have liability insurance and WSIB for all of our projects.