Choosing the Best Shower Head For Your Bathroom Renovation
Posted on June 01, 2022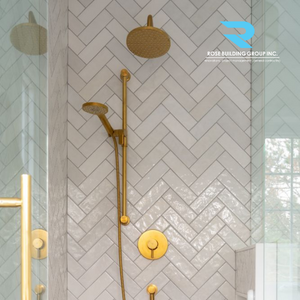 The bathrooms in your house are essential rooms. They're places where you clean yourself and rejuvenate. Bathrooms should have convenience and style, which is why our team of bathroom renovation contractors at Rose Building Group knows that the best shower head for your bathroom renovation needs to have these qualities as well.
We've come a long way in terms of bathroom design and styles implemented by builders and home renovation companies. And the bathroom shower head has come a long way as well. From having just one water pressure and temperature, today, shower heads offer multiple options. They have variable flow rates, different settings, and even massage settings.
And with so much variety and options, how do you decide which one is right for your bathroom? Luckily, our bathroom renovation contractors have taken the time to outline what to consider and the benefits of various shower head models.
Factors to Keep In Mind
Water Pressure: When choosing a shower head for your bathroom renovation project, one of the most important factors to consider is the water pressure. Shower heads are rated by the pounds per square inch (PSI) of water pressure they can create. The higher the PSI, the more powerful the shower head will be.
Spray Pattern: Another factor to keep in mind when choosing a new shower head is the spray pattern. Most shower heads come in three different spray patterns: pulse, wide, and massage. Pulse spray patterns are great for a pulsing massage-like effect, while wide sprays are perfect for covering large areas. Massage sprays are a combination of both pulse and wide patterns and provide an all-over massage effect.
Flow Rate: One final factor to consider when selecting a new shower head is flow rate. Flow rate is measured in gallons per minute (GPM) and gauges how much water flow you can expect from the shower head each minute. A higher GPM means more water flow and vice versa.
Choosing The Best Shower Head
It comes down to a couple of things. You need to decide what kind of shower head you want, how much you're willing to pay for it and how much space you have. Oh, the decisions!
So what kind of showerhead will suit your bathroom the best?
1. Standard Wall Mount Shower Head - The standard wall mount shower head is one of the most popular types of shower heads on the market. They are easy to install and can be found in a variety of different styles and designs. You can start out with a basic model that does the job. It has multiple settings, but the downside is it doesn't have a handheld sprayer. The upside is that it's not too pricey, and it has enough features to make your shower experience fabulous.
2. Rain Shower Head - A rain shower head is a great choice if you're looking for something that will give you a luxurious shower experience. Rain shower heads are larger than standard shower heads, and they provide a gentle, rainfall-like stream of water. They can be more expensive than standard shower heads, but they're worth the investment if you want to turn your bathroom into a spa-like oasis.
3. Handheld Shower Head - A handheld shower head is a great option if you need more flexibility in your shower. Handheld showerheads come with a long hose that allows you to move the sprayer around, making it easy to rinse off hard-to-reach spots or wash your pet. Many models also come with multiple spray settings so you can customize your showers to fit your needs.
Any high-quality home renovation company can help you pick the optimal shower head for your next bathroom remodel. If you are looking for knowledgeable and experienced bathroom renovation contractors in the Burlington, Oakville and Hamilton area, contact Rose Building Group today!