Choosing the Perfect Shower For Your Bathroom Renovation
Posted on March 02, 2022
If you're in the process of planning a bathroom renovation, one of the decisions you'll need to make is what type of shower to install. A shower is a key feature in any bathroom, and it's important to choose the right model. When designing a stylish bathroom with the help of a home renovation company, consider the space you have available as well as the configuration of the room when choosing the best shower model.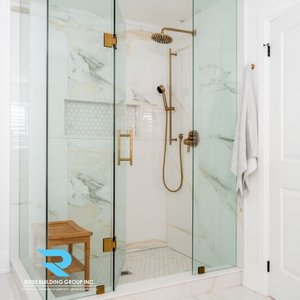 In this article, the Rose Building Group home renovation contractors help you choose the perfect shower for your upcoming bathroom renovation. We'll discuss the different types of shower models available and provide tips on selecting the right one for your needs. Let's get started!
Shower Models To Choose From
Prefabricated Showers
Pre-fabricated showers are a great option if you're looking for a quick and easy installation. These showers are available in a variety of styles, including one-piece showers, traditional showers, modular showers, and modular corner showers. You can also choose from a variety of materials, including fiberglass, acrylic, and cultured marble.
One of the benefits of a pre-fabricated shower is that it can be installed in a fraction of the time it would take to install a custom shower. In addition, these showers are often more affordable than custom showers.
If you're looking for a quality shower that is easy to install, a prefabricated shower may be the best option for you.
Hammon Shower
Looking for a way to take your relaxation to the next level? A hammam shower may be just what you need. A hammam shower is a type of shower that recreates the experience of a traditional Turkish bath or hammam. It features a steam room and a rainfall showerhead, which combine to create a relaxing and invigorating experience.
If you're interested in installing a hammam shower during your bathroom renovation, the home renovation company Rose Building Group can help. We offer a wide range of high-quality hammam shower systems, and our experienced team can help you choose the right one for your needs.
Walk-In Shower
Walk-in showers are a great way to add functionality and style to your bathroom. They have been trending for several years now, and with good reason – they are a great way to add functionality and style to your bathroom.
A walk-in shower is a great way to make the most of your space. It's perfect for small bathrooms, and it can add a touch of luxury to any bathroom. With a variety of shapes and sizes to choose from, you can find the perfect walk-in shower for your home.
If you're looking to renovate your bathroom to increase its aesthetic value and functionality, a walk-in shower is a great option. They are stylish and functional, and they will add value to your home.
Contact Rose Building Group
If you're in the market for a new shower for your upcoming bathroom renovation project, contact Rose Building Group. We are a leading home renovation company in Burlington, Oakville, Hamilton and the surrounding area, and we specialize in bathroom and kitchen renovations. We will work with you to create a shower that fits your needs and budget.