Create a Luxurious Staircase for Your Home
Posted on May 18, 2023
Creating a luxury staircase usually generates the showstopper for luxury home renovations in Burlington. The staircase alone can define the essence of a home and make it appear modern, traditional or rustic. When conceptualizing what your fabulous staircase will look like, ensure you are working with a professional renovation contractor so there is no compromise on details or craftsmanship; having a clean, perfect finished product is essential for a luxurious staircase. Rose Building Group has extensive experience and works with phenomenal designers to develop beautiful signature staircases throughout the Greater Toronto Area.
Read on to learn more about features that will elevate your staircase.
Explore Your Railing Options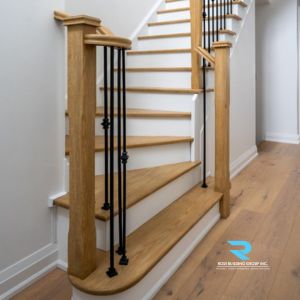 A renovation contractor will have worked with a variety of staircase railings. Stair railings have the ability to deliver a drastic visual impact to a staircase and the overall home. You can consider several options for your railings, each creating its own style and ambience.
Iron: Iron spindles add a decorative touch and help breakup an all-wood appearance. Iron spindles are a versatile luxury feature that can suit any staircase or home. Some deeply intricate designs may offer a more traditional or classical look.
Wood: These are the most common spindles, and often when building a luxury staircase, these would be either removed and upgraded or painted to offer a contrast from the rest of the staircase.
Stainless Steel Glass Railings: Stainless steel glass railings provide a sleek modern look to any home and are often found in newly built homes.
Frameless Glass Railings: Frameless glass railings are the epitome of luxury and create a beautiful contemporary staircase.
Staircase Shape and Lighting
Regarding staircase shape, your choice will heavily depend on your taste and interior design goals for your staircase and home. A large spiral staircase may appeal to some, and others would have it removed and make it rectangular; it depends on if you are looking for a minimalist modern design or something more traditional plus your personal preference.
Under stair lighting is a luxury accent that universally complements all staircases that are not carpeted. Under-stair lighting provides a pristine finish to a luxury staircase.
Materials of Staircases
Staircases are built using various materials, each of which can be used in your luxury home renovation in Burlington. You can indulge in glass stairs or use various kinds of wood for a staircase.
If you have a busy household and expect the stairs to be a high traffic area, consider a material like luxury vinyl plank, which is durable but has the same look and finish of wood.
There are textured carpets or carpet runners that are found on luxury staircases as well.
Rose Building Group: Your Luxury Renovation Contractor
When planning for luxury renovations in Burlington, Rose Build Group is your trusted contractor. Rose Building Group is a team of professionals deeply committed to customer satisfaction and creating exquisite new spaces that will never cut corners and ensure you are always informed every step along the way of this exciting journey.