Designs Tips For an Open-Concept Kitchen Renovation
Posted on August 17, 2022
What is it about open concept kitchens that makes them so popular? Part of its popularity is its versatility. Whether you're looking to give your home a better sense of flow or you want a better setup for entertaining, an open concept kitchen is what you're looking for. Plus, since they are so popular, an open concept kitchen is a great way to boost your property's value and stand out from others, should you choose to sell or rent. With the right home renovation company, you can sart a kitchen renovation that fulfills your needs while increasing your property value.
Here are some design and renovation elements you can incorporate into your kitchen.
Island or Peninsula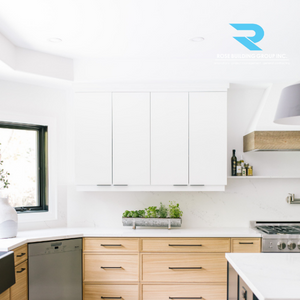 An island or peninsula quickly transforms any space, especially your entire kitchen. It creates an extra workspace while you're cooking and an accessible nook for eating while still giving you the openness you're looking for. However, adding in an island can be a daunting task to take on alone because you want to make sure you're not interrupting the flow of your open concept design, but you still want to take up enough space that it's worth including. This is why adding an island is an excellent discussion with an experienced team like the one at Rose Building Group so that you can avoid all the possible pitfalls.
New Flooring
Old flooring, particularly tiled flooring, can make your kitchen look dated and separate from the rest of your home. Introducing hardwood flooring to your kitchen adds to your home's flow while giving it a more modern aesthetic and complimenting the open-concept layout.
Backsplash
A backsplash is a great way to introduce colour or unique designs into your kitchen. Whether you're looking for a bold, standout pattern or you want a more elegant aesthetic to complement your cabinets, the right backsplash can elevate your entire kitchen. Consider your backsplash the accent detail that takes your kitchen to the next level. If you're a fan of busier or more detailed backsplashes, a large open-concept kitchen is the perfect place to try these designs without crowding or overwhelming your space.
Countertops
Your countertops set the tone for your kitchen and are key to its usability. Good countertops should be durable and easy to clean, but they should still compliment the style of your kitchen. When done well, the right countertops will give your kitchen a clean and immaculate look that excites you to cook without making you dread the clean-up. When incorporating a new countertop into your kitchen try not block the entry way to and from your kitchen, so you can maintain a seamless flow.
Ceiling & Lighting
Pendant lighting fixtures are a staple in kitchen renovations because they are a great way to add a unique and personal design element. Pendant lights are also relatively easy to switch from one design to the next in case you choose to sell or rent your home.
Your ceiling may not seem like the most crucial aspect of your kitchen renovation, but it should not become an afterthought. A contemporary and stylish ceiling does wonders for the value of your property elevating the kitchen as a whole.
Home Renovations with Rose Building Group
Before you start your dream kitchen, get help from a professional home renovation company, like the team at Rose Building Group. With a team of experts helping you walk through your options based on your kitchen's current design and your unique needs, you can save on time and money by getting things right the first time.
Contact Rose Building Group to start your kitchen renovations!