Dos and Donts For Your Bathroom Renovation
Posted on May 19, 2022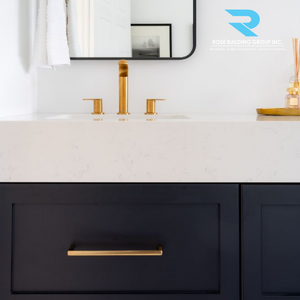 Whether you plan on embarking on a full home renovation or a small bathroom renovation, missing a few pre-renovation considerations can lead to a bad renovation. A renovation, when done correctly, can dramatically increase the value of your home, but when done incorrectly, it can quickly become a disaster for any contractor to fix.
If you're wondering how to renovate a bathroom that maximizes your home value and gets done on time and on budget, then keep reading. Rose Building Group home renovation contractors, who have been in the renovation industry for over 14 years, have put together this information for you on the dos and don'ts for renovating your bathroom.
The Dos Of A Quality Bathroom Renovation
In our 14+ years of full home renovations, we have seen many homeowners make the mistake of not discussing key points before getting started. From the moment you call a bathroom renovation contractor, make sure you're both on the same page. You'll save time and money, avoiding costly mistakes this way.
1. Invest in In-Floor Heating
One of the best investments you can make during your bathroom renovation is to install in-floor heating. This will not only add value to your home, but it will also provide a luxurious and cozy spot to relax after a long day. In-floor heating is relatively easy to install and can be done by most qualified contractors.
2. Use High-Quality Materials
While it may be tempting to save money by using lower-quality materials, this can often lead to problems down the road. When renovating your bathroom, be sure to use high-quality materials that will stand the test of time. This includes items such as flooring, tiles, fixtures, and more. By using high-quality materials, you can avoid replacing items in the future, which can save you both time and money.
3. Consider Adding More Storage
If your bathroom lacks storage, consider adding more during your renovation. This can be done in various ways, such as adding new cabinets and shelves or creating hidden storage behind mirrors or false walls. By adding more storage to your bathroom, you can help keep the space organized and clutter-free.
4. Update the Fixtures
One of the quickest and easiest ways to give your bathroom a facelift is to update the fixtures. This includes items such as faucets, towel racks, light fixtures, and more. Not only will this help improve the aesthetics of your bathroom, but it can also help save money on utility bills by using more energy-efficient fixtures.
5. Add a Luxurious Touch
If you want to add a touch of luxury to your bathroom without breaking the bank, consider adding high-end finishes. This could include items like marble countertops, heated towel racks, rain showerheads, or even a bidet. By adding just a few luxurious touches, you can transform your bathroom into a true oasis
The Don'ts of a Bathroom Renovation
1. Don't Install Hardwood Floors
While hardwood floors may be beautiful, they are not ideal for bathrooms. The moisture from showers and baths can quickly damage hardwood floors, causing them to warp or cup. This can ruin the look of your floors and increase the risk of slips and falls. If you love the look of hardwood floors, consider using tile that looks like wood instead.
2. Don't Forget About Ventilation
One of the most common mistakes made during bathroom renovations is forgetting about ventilation. Without proper ventilation, humid conditions can lead to the growth of mold and mildew, which can cause serious health problems. Be sure to include a vent fan in your plans or even open a window to help keep the air fresh and dry.
3. Don't Overlook the Details
When renovated on a budget, it's easy to overlook small details that can make a big difference in your bathroom's overall look and feel. Be sure to consider things like lighting, hardware finishes, and grout colours when making your selections. By paying attention to these small details, you can create a high-end look without spending a lot of money
How To Ensure A Successful Bathroom Renovation
Stay informed, informed, informed. The best way to ensure that you don't get stuck with any surprises is to educate yourself about the process, which is why we have provided lots of information for you to read and digest.
If you are interested in starting a bathroom remodel, contact our experienced home renovation company today.