Follow This 6 Step Checklist Before Starting Your Bathroom Renovation
Posted on January 21, 2022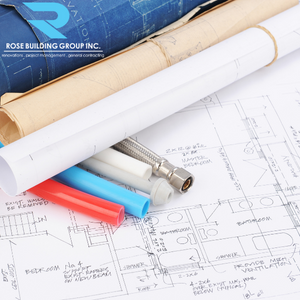 If you've been dreaming of a new bathroom for your home, we have a checklist of things to consider before you begin your next bathroom renovation. At Rose Building Group, our home renovation contractors are always there to help. We have completed over 11,000+ bathrooms since 2011, so we know the care and time that goes into a bathroom renovation.
Deciding on undergoing a bathroom renovation is one of the most significant decisions you may make when upgrading the value of your home in Oakville, Burlington, or Hamilton. What is your vision for your new bathroom? With so much at stake, the Rose Building Group bathroom renovation contractors have compiled a checklist of 6 things to think about before starting your bathroom renovation.
1. Gather Information
The first step to a successful bathroom renovation is having a clear plan of what you want to achieve. This will help keep you on schedule and budget along the way. Start by looking at your existing bathroom, and decide which elements you want to keep and what must go.
Second, learn as much as you can about the bathroom renovation process. It's important to research the materials and products that are available to you today. That way, you won't feel limited during the design phase of your project.
TIP: You may also want to speak with other homeowners who recently built or renovated a bathroom. This can help you learn more about the renovation process and what to expect.
2. Determine Your Budget
Budget is such an important factor in any home renovation. It's essential that you create a realistic budget with your contractor before starting a project.
3. Check the Size of Your Space
Make sure you have enough space to include all the elements you want to include. Think about the size of the room and its plumbing when thinking about functionality and where things should go. You will have to get permits from your municipality before starting your renovation. Be sure you have enough space for everything.
4. Choose Some Fixtures and Finishes
After you and your bathroom renovation contractor have agreed on the shape and feel of the design, it's time to talk about the finishes that will be used throughout the space. Look at stunning bathrooms on the web, in magazines, and ask your friends to get ideas. Think about the concept of your dream bathroom and how it will fit in your home. Have a clear plan about what you'd want for your bathroom.
5. Plan Out Your Storage
It's not a fun or exciting step, but planning cabinets, shelving, and storage is an essential part of any bathroom renovation. This is where you're going to make use of every inch of space to achieve the bathroom storage you need. You can use flanking storage or even free-standing cabinets to create the look you want in the best way possible.
The size of your bathtub or shower will also determine the size of your cabinets, and that will dictate what you can put in them. Still, there are many modern solutions for making the most of the area around your sink, tub, or shower.
6. Ventilation
Bathroom ventilation is a critical aspect of bathroom design. It is vital to have proper ventilation for air circulation in the bathroom. Ventilation prevents the growth of harmful molds and keeps your bathroom smelling fresh all day long. Adequate ventilation can be achieved by adding windows or fans in bathrooms. This is crucial, especially if you have a shower stall because it allows fresh air while retaining moisture.
With more than 25 years of experience, we specialize in high-quality home renovations in Burlington, Oakville, and the surrounding area. We're dedicated to our clients, and that's why we offer a full-year warranty on all of our work. We'll work with you to customize your new bathroom renovation. You can expect expert advice, innovative recommendations, and up-front pricing by working with Rose Building Group. Contact us today to learn how we can help you with your next bathroom renovation.