Guide to a Stunning Living Room Renovation
Posted on May 09, 2023
The living room is often the heart of the home, the centerpiece of your castle. It sets the tone of your home and creates the impression you desire. When you consult your home renovation contractors in Oakville about the features and designs you seek for your living room, it's essential to understand the entire ambiance or vibe you desire for your home, as it will be embodied by your living room the most. Home renovation companies will be able to assist you with ideas that bring your dream living room to life. Rose Building Group is a team of skillful and experienced renovation contractors that will transform your living room into a stunning space for you to enjoy.
Read more for your guide to a stunning living room renovation.
The Impact of Flooring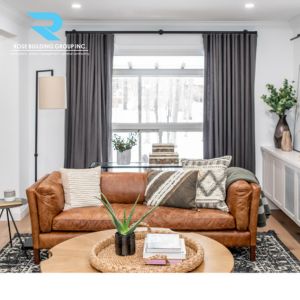 While you may not realize it, each element of flooring you install can impact the ambience of your entire living room and home, including the colour, material, and pattern.
For example, using grainy or orange tinge wood flooring will create a more rustic and cozy vibe. On the other hand, If you want something that will create a modern feel, look at sleek, wide-plank dark floors or bleached oak flooring. Understanding the overall goal of the living room will help your home renovation contractors provide you with options and recommendations that will best help you achieve the final look you are hoping for.
Living Room Paint Colours
Paint colors work similarly; you might need gray and cool light colors for a modern space and move away from dark and warm wall paint colors. There is no one size fits all, but having a clear idea of what you want the final product to be like, not necessarily look like, will help your renovation contractor help you.
Luxurious Accent Walls
Don't shy away from making bold statements in your living room. Adding a creative accent wall with beautiful wallpaper or deep colors on a three-dimensional wall will bring style to the space and is a nice way to introduce color in the living room. Accent walls are a way to add depth, style, and life to a space.
Cozy Fireplace Additions
There are a variety of options when it comes to fireplaces, fireplace mantles, and fireplace accent walls. Your fireplace can be the showstopper in your living room, so take it and allow yourself to get particularly creative with your fireplace mantle and/or accent wall. Consider a large and Romanesque fireplace mantle when trying to redesign a living room with a traditional and classic look. On the other hand, you may have a fireplace built into the wall with a marble or slate accent wall; this immediately creates a more modern and fresh look.
Rose Building Group for Home Renovations
Rose Building Group is renowned for delivering high-quality renovations where care is applied to every detail. Rose Building Group has a team of licensed professionals who would be excited to bring your project to life.