Guide to Flooring for Your Home Renovation in Hamilton
Posted on October 16, 2023
The flooring in your home profoundly influences the atmosphere, comfort, and functionality of each room, making it a choice that warrants thoughtful consideration. When you're planning a home renovation in Hamilton, one big decision you'll face is selecting the ideal flooring. From tiles and marble flooring to hardwood floors, there are many possibilities available. Working with the experienced renovation contractors at Rose Building Group, you will find high-quality options that add a beautiful touch to every room in your home.
For luxurious flooring options, read our blog and start planning your upgrades with Rose Building Group.
Evaluate Your Lifestyle and Room Requirements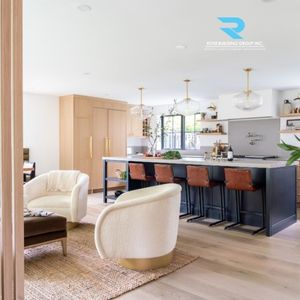 Before looking at flooring samples with your renovation contractor, talk to the Rose Building Group team and consider whether you're renovating a high-traffic area, like the kitchen or living room, or perhaps a lower-traffic bedroom. Assess the needs and lifestyle requirements of each room. Consider whether pets or children are part of the equation. These aspects play a crucial role in your flooring selection. For areas with significant foot traffic, such as kitchens and living rooms, options such as hardwood, laminate, or luxury vinyl, known for their durability and minimal maintenance needs, should be considered. Whereas bedrooms, where comfort and aesthetics often take precedence, may lean towards plush carpeting. In households with children and pets, prioritizing stain and scratch resistance becomes paramount. A popular option for full home renovations in Hamilton is engineered hardwood flooring, which can be tailored to your home's needs and the people in it to enable optimal performance.
Understand Your Style and Aesthetic Preferences
Every homeowner possesses a distinctive sense of style and aesthetic preferences. The chosen flooring should be a reflection of this uniqueness. For those keen on preserving a classic, timeless ambiance, hardwood flooring with its rich, natural tones is an ideal choice. Alternatively, if you aim to embrace a more modern and versatile design, sleek and low-maintenance options like porcelain or ceramic tiles come to the fore. Carpeting offers a broad spectrum of colours and textures, making it an excellent choice for those striving to craft a warm, inviting atmosphere. The essential key is to harmonize your flooring selection with the overarching design vision you have for your residence, whether you're focusing on a particular room, such as kitchen renovations, or you set your sights on the entire home.
Choose Flooring That Suits Your Climate
Hamilton experiences a diverse climate throughout the year, characterized by hot summers and cold winters. Your flooring selection should be attuned to these seasonal variations. In summer, you'll desire a surface that remains cool and comfortable, while winter calls for flooring that can withstand moisture and frigid temperatures. When considering the climate in Hamilton and Southern Ontario in general, materials like porcelain or ceramic tiles are prime choices, as they boast durability and resilience to temperature fluctuations. In bedrooms, where warmth underfoot is essential, consider the addition of beautiful area rugs atop hardwood or laminate flooring to provide comfort and insulation during the chilly months.
Consider Environment Impact
As the global focus on environmental responsibility continues to grow, many homeowners are showing an increased interest in eco-friendly flooring alternatives. You can contribute to sustainability by opting for flooring materials with a reduced environmental footprint. Cork and bamboo are superb selections, as they are renewable and biodegradable. Furthermore, many flooring products now come with eco-friendly certifications, highlighting their compliance with environmental standards. Choosing sustainable flooring not only benefits the environment but can also improve the indoor air quality of your home.
Luxury Home Renovations & Rose Building Group
Choosing the right flooring for your home renovation requires thoughtful planning and experience. Work with Rose Building Group to assess your lifestyle and needs, align your flooring choice with your unique style and aesthetic vision, budget wisely, consider your local climate, and be mindful of environmental impact. By adhering to these guidelines, you'll make an informed decision that elevates both the visual appeal and functionality of your home, ensuring that your renovation lays a strong foundation for success.