Guide to Making Your Home Renovation a Reality in 2023
Posted on December 29, 2022
If you've been thinking about a home renovation in Burlington, the new year is the perfect time to take action. Sure, you love your home, but that doesn't mean there isn't something you'd like to change. We rarely get to live in a home that's fully tailored to our needs without working with experienced home renovation contractors. Since a full home renovation project can feel like a daunting task, it's important that you have an experienced team, like the one at Rose Building Group, to guide you through the process. These professionals will help you to create your dream home that's trendy and functional on your budget. Read on for tips on how to streamline your Burlington home renovations.
Find a Home Renovation Contractor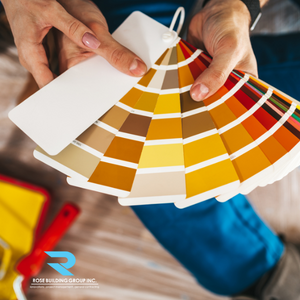 As fun as a DIY project can be, it's important to have a team of experienced professionals you can trust when it comes to home renovations. Not only can they use their experience to get things done quicker, but they come with the proper legal accreditations necessary for some larger projects. These accreditations can vary depending on your location. Still, with the team at Rose Building Group, you can rest assured that your home renovation contractors have the proper licenses and the know-how to get any necessary permits.
Schedule a Site Visit & Determine Your Budget
Once your team is selected, the Rose Building Group will schedule a site visit to inspect your space, understand your needs and determine your budget. This step of planning your home renovation in Burlington is commintement-free, so you can feel free to brainstorm any ideas or concerns you need to address.
Design & Plan Your Renovation
With the Rose Building Group, this is the phase where the designers and architects will bring your project alive. You will be able to see how your practical needs meet your design dreams to create a space that's tailored to your needs. Creatively, this is the most exciting step as you get to see how your favourite trends come to life in your home.
Pick out your Favourite Pieces
Whether you want to tackle every project at once or just focus on a specific room, this is the phase where you align your budget with your final project expectations. During this stage, you will narrow down your vision to create a cohesive plan that your home renovation contractors will carry out.
Determine a Home Renovation Timeline
Once you have your creative goals, it's time to talk about scheduling. Your timeline can depend on various factors, such as the scope of your project, city permits and your budget. It may seem like many things to keep in mind, but fortunately, the Rose Building Group team has enough experience in this realm that they will be able to help you create a timeline that properly brings your vision to life.
Final Home Walk-Through
Finally, the step you've been dreaming about: the final walk-through! Here is where you get to relish in your new home and see how much of a difference a few changes can make. This is where you let the Rose Building Group know what you love to ensure you're properly satisfied with your new dream home.
Start Planning Your Home Renovation Today with Rose Building Group.