How Kitchen Remodelers Can Upgrade Your Cabinets
Posted on October 07, 2022
If you've been dreaming of a kitchen upgrade, there's never been a better time to start. On top of significantly increasing your property value, kitchen renovations can completely transform your space, both in its aesthetic and functionality. Putting off a home remodel is pretty standard - things get in the way, and starting any renovation can be a pretty daunting task to take on yourself, but with the help of a trusted and quality kitchen remodeler, you can give yourself a kitchen that's more fun to cook and host events in. Rose Building Group has expert home renovation contractors in Burlington, Hamilton and Milton that will help make your kitchen remodel less daunting and completely revolutionize your kitchen in no time!
Here are 5 ways kitchen remodelers can upgrade your cabinets.
Fresh Paint or Stain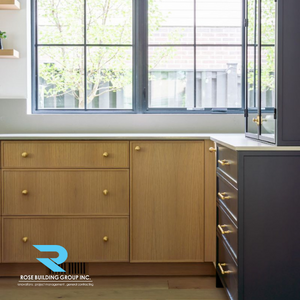 It might seem like a simple solution, but a fresh coat of paint or a well-done stain on your cabinets can completely change your kitchen's aesthetic and modernize it. Nothing makes you want to avoid your kitchen like worn-out cabinet paints. Whether it's a white coat that's not so white anymore or a bold colour that's faded over time, fresh paint can enhance your kitchen.
Remove Cabinet Doors
If your cabinet doors are beyond saving, consider removing them altogether. Create an open and transparent feeling throughout your kitchen by having exposed cabinets. No doors on your cabinets also mean you can save time accessing your kitchen utensils, and you'll always see exactly where everything is stored.
Incorporate Glass Inserts
If you're not ready to commit to the "no-door" aesthetic. In that case, glass inserts might be the right choice for you. Glass inserts let you see inside your cabinets at all times without removing the doors to your cabinets. Glass also gives you versatility in style since it goes perfectly with every style and colour.
Add Crown Moulding
If you're looking to give your kitchen a delicate touch of elegance, crown mouldings are a staple in interior design for a reason. However, picking the right ones and installing them can be challenging to do on your own, which is where the kitchen remodelers at Rose Building Group come in. Their home renovation contractors will help you to install your crown mouldings right the first time.
Install Lighting Under Cabinets
Add lighting components to the area under your cabinets to give your cabinets a modern look and add functionality to your kitchen. LED lighting under your cabinets allows you to hide the light source while still brightening your kitchen countertops, giving your kitchen a "lit from within" look.
Start Your Kitchen Renovation in Southern Ontario
Kitchen cabinets start to experience wear and tear after 10-15 years, which might seem like a lot, but not when you factor in how many years people spend in the same home. Whether you want a renewed look and feel in your kitchen or hope to add value to your home before putting it on the market, updating your kitchen cabinets can make a huge difference. To get the most out of your kitchen remodel, bring in experienced home renovation contractors like the team at Rose Building Group to take your space to the next level.