How to Choose the Perfect Tub for Your Bathroom
Posted on July 05, 2022
Your bathroom, especially a primary bathroom, is the centre point of your home. It's where you get ready for the day ahead and where you go to destress after a long day. When working with a team of bathroom renovation contractors, there are many ways to upgrade your space. One of the key design elements is a tub. Finding the perfect tub enhances the feel and functionality of your bathroom for maximum luxury.
At Rose Building Group, one of the top home renovation companies in the GTA, the team will help you design and construct the perfect bathroom for your style, from your fixtures and lighting to your walls and floors.
For tips on how to pick out the perfect tub, read on.
Size & Space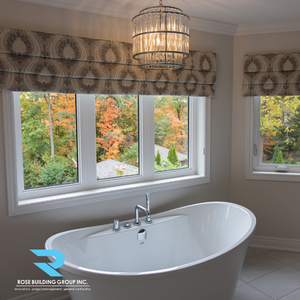 When browsing through potential bathroom fixtures, your first consideration should be the size and space available for a tub. Measure the size of your bathroom before you start to look at options. If you're expanding the size of your bathroom, talk to your bathroom renovation contractors and ask what guidelines you should be following as you shop tubs. As one of the most recognized and experienced home renovation companies in the Greater Toronto Area, Rose Building Group will guide you through your design decisions to make choices that best suit your style, the functionality of the room, and modern trends. For the most effortless use, it's often best to opt for a tub that will leave you space to enter and exit comfortably.
Freestanding vs Skirted Bathtubs
There are two main types of bathtubs which homeowners will install - freestanding or skirted.
Essentially, a freestanding bathtub is one in which all four sides of the tub are exposed or accessible. Since they are not fixed to a wall, bathroom renovation contractors typically recommend a freestanding bathtub to homeowners who want to give the illusion of more space in their bathroom.
Skirted bathtubs, on the other hand, are more enclosed than freestanding tubs, with only one side exposed. Tucked into a nook or corner, home renovation companies will install this style of the tub between three walls. Often skirted bathtubs are combined with showers as a space-saving technique.
Matching Your Theme
The design and installation of skirted bathtubs often appear to be more simple and are favoured for their functionality and modern appearance featuring straight lines and clear corners. If you're looking to create an elevated space that appears more vintage, it's best to opt for a freestanding tub that allows you to lean into a specific style.
Bathtub Installation
Many homeowners will guide their new bathtub decision based on the installation process. If you're looking to keep your bathroom renovation as quick as possible, freestanding tubs are usually easier and faster to install because they do not need to be fixed to the wall, allowing them to be installed in virtually any area of the room. But other factors such as weight and tub materials can affect the installation timeline. While it helps to upgrade your bathroom as soon as possible, it's best not to rush quality or skip out on your dream bathtub based on installation. You can trust the Rose Building Group team for fast and high-quality bathroom renovations.