How To Choose The Right Home Contractor for Kitchen Renovations
Posted on August 05, 2021
Are you thinking about undergoing a home renovation? Are you finally ready to start your kitchen renovation project and build the kitchen of your dreams? Choosing a knowledgeable and reliable full home renovation company for your upcoming kitchen renovation should not be rushed.
There are some things to consider when choosing a

contractor for your kitchen renovation, such as:
Are they reliable, knowledgeable and trustworthy?

Are they experienced with past work references from previous customers?

Do they have an idea of the desired outcome your project will have?
These are all valid questions that any homeowner should keep in the back of your mind when undergoing an extensive research process to find the right kitchen renovation contractors.
Rose Building Group truly understands your concerns when shopping for a reliable home renovation company. This is why we have decided to put together this list of tips for homeowners to find the right contractor for your next kitchen renovation project.
Home Renovation Tip - Do Your Research Early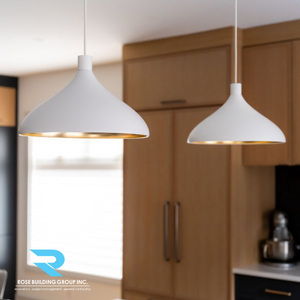 While it may be overwhelming at first, the task of finding a reliable home renovation contractor does not need to be a daunting one. Before you get into a contract with a contractor or any other service provider, ensure that you have done your research.
Are They Licensed
The first step in finding the right kitchen renovation contractor is ensuring that the home renovation company has the correct licensing and insurance coverage. You can check on the government of Ontario website for whether a company is licensed or not.
Experience
When researching for the right full home renovation company to hire, you should check to ensure their staff are skilled with home renovation fundamentals such as organization, safety, time management skills, and project management skills.
A good home renovation company will also have experience with "broken-down" jobs like electrical troubleshooting and carpentry work. They should have experience working with other contractors and staying current on any new building codes that may affect your kitchen renovation and effortlessly know how to properly adhere to them.
Reputation
​​Try to get a referral from someone you know: Word of mouth has always been a trusted source for a home renovation company's reputation. If you have friends or colleagues who have had their home renovated recently, ask them for recommendations. They might have used a company they were happy with, and they could be just what you need.
Get Quotes
When reviewing different contractors, you should ask questions about design ideas. You may also want to go over plans in detail before hiring someone to make sure they understand what you're looking for and complete the renovation within your budget without any problems.
Using the tips listed above will give you the peace of mind of knowing that you are choosing the best home renovation company to suit your needs. If you are looking for the perfect home renovation company, check out Rose Building Group; The best home renovation company servicing Burlington, Oakville, Hamilton, and surrounding areas of Ontario.