How to Conquer Your Bathroom Renovation like A Pro
Posted on April 01, 2022
When it comes to renovating your home, bathroom renovations can be overwhelming. There are many things you should think about when undertaking a bathroom renovation. Luckily the Rose Building Group home renovation contractors have put together these 4 simple phases for how you can approach your bathroom renovation like a pro!
Note: Hiring an experienced home renovation contractor can help cut down on design and construction stress by breaking down the job into phases. Each phase has its own unique set of tasks and challenges to overcome. If the bathroom is being completely re-designed or is being enlarged, dividing the work into smaller phases will help prevent too much information from being thrown at the homeowner at once.
Phase 1: Bathroom Design Planning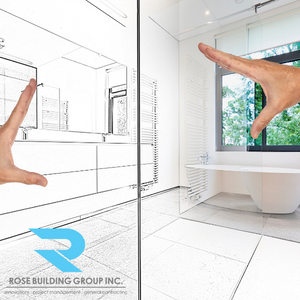 The key to any bathroom renovation is to define the style you are looking for and to get inspired. Bathroom designs have changed over time. If you're into modern bathroom design, your bathroom might have slick brushed nickel fixtures, a marble tile countertop, a simple geometric wall pattern, and a smart mirror. If you are looking for modern bathroom design ideas, you can go with subdued colours like browns and grays, different materials (wood, glass, marble), or different textures (smooth matte vs. rough, coarse surfaces). You could also use a neutral color scheme and add pops of color with accessories or decorations.
If you are looking to skip some of the hard work involved, why not hire a bathroom renovation company to create a realistic 3D rendering and a curated supply shopping list. This will give you a good idea of how much money you will be spending and how long the project will take.
Phase 2: Establishing a Budget & Timeline
In the second step, a home renovation company will ensure the bathroom renovation stays on track and ultimately fits within the homeowner's budget. It is critical to have an accurate scope of work with accurate quotes to ensure that your project stays on budget. It is also essential to confirm that all permits are in place.
The budgeting stage is also a great time to decide if you will be including any of your own DIY projects in the renovation. If you choose to do so, you will need to make sure that you have included this in your scope of work and should make sure it is not seen as a value-added bonus for the project management firm.
Phase 3: Finalize the Design
The third phase in your bathroom renovation is the design. With your renovations plan and budget, you should have a better idea of what your bathroom will look like. Some questions you should have answers for in this stage are:
How big is your bathroom?
What fixtures do you want?
Do you want a walk-in shower, tub or both?
How many vanity sinks do you need?
What colour countertop do you want? Do you want to keep the old sink or get a new one?
Do you want to paint the walls and ceiling or add some kind of pattern or texture?
What kind of lighting are we going with? Will it be flush mounts or recessed into the ceiling? Is there a chandelier I can put up?
What kind of flooring will I use? Will I repaint my flooring with different tiles? If so, what does that look like?
This is not an exhaustive list, but it should give you an idea of what your question should be answered. By now, you also should have a good idea of how you want your space to look and feel. If not, head back to Phases 1&2 and revisit them with your bathroom renovation contractor. Once you have all these answers, you can work on designing and creating what your dream bathroom looks like.
Phase 4: Building Your Dream Bathroom
From this point forward, it's all about making your dreams a reality – but it's also about being realistic and understanding that there could be additional costs that arise. The building phase of your bathroom renovation project could be the most challenging part of your bathroom renovation if you don't have the right home renovation company helping you.
At Rose Building Group, we use our experience and expertise to help guide you through the best plan for your budget and needs. When designing your bathroom, make sure to ask as many questions as possible. If you are unsure what something will look like in your space, take measurements and find materials options and do a mock-up on paper.
Final Word
Rose Building Group is here to make sure your bathroom renovation goes as smoothly as possible. We are a home renovation company that focuses on delivering high-quality kitchen, bathroom and basement renovations. If you are considering a bathroom renovation, we will provide you with top-notch services. Contact us today to inquire about how we can help you with your upcoming bathroom remodel.