How to Create a Functional Office with Home Renovations in Hamilton
Posted on July 28, 2023
It's official, the home office is here to stay! Whether you're working from home full-time, hybrid, or just occasionally, it's becoming clear that having a space at home dedicated to work is essential. Many Hamilton home renovations have already jumped on this train by incorporating home offices into their projects. But as every great home renovation contractor knows, it's not enough just to have a space where you keep your computer and files, a focused ambiance must be created. To flourish as a remote employee, you need a space that is dedicated to bringing out your best, allowing you to concentrate while still maintaining the level of comfort that can only be obtained from an at-home workspace.
Keep reading to learn more about how the home renovation contractors at Rose Building Group can help you build the perfect home office.
Add More Lighting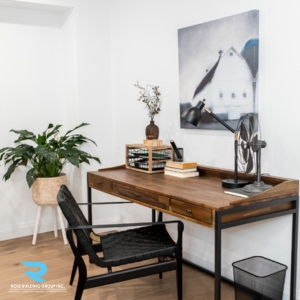 One of the biggest perks of having a home office is that you can control the space, particularly the lighting. In most offices, lighting is often either too poor, which can make it harder to be productive, or too harsh, which can cause headaches and migraines. Adding natural light by installing windows is a great way to brighten up the place in a way that's easier on the eye. You can also add light fixtures and smaller task lighting to help you focus on your work without straining your vision, while still catering to the aesthetic of the room.
Upgrade Your Windows
Keep yourself grounded while you work by allowing a sense of the outside world in. There's nothing quite like natural lighting. Upgrading your windows allows you to feel in tune with nature and the rest of the world. Windows come in various shapes and sizes, and you can match them across your entire home with help from the team of home renovation contractors at Rose Building Group. With high-quality and well-placed windows even when you're inside for long hours, you can still feel connected to the world around you.
Maximize Smart Storage
Nothing takes an office from productive to dysfunctional, quite like disorganization. By keeping storage space as a top priority during your Hamilton home renovation, you can avoid the pitfalls of a messy workstation. From embedded cabinets and high shelves to out-of-sight storage compartments, smart storage solutions can help you be more productive at work and enjoy your space more.
Enable Comfort
Another perk of working from home is that your office only has to cater to your needs. This means focusing on the things that make you feel most comfortable while you work. That could look like using modern furniture like a standing desk, installing heated floors for those early morning shifts, or completely altering the layout of the room so the sun is never in your eyes. The options for optimizing your comfort are endless!
Add a Splash of Colour
It's very important that your home office is a space you actually want to spend time in. Adding a splash of colour is a simple way to set the tone of your workstation. Bright, joyous colours or bold print wallpapers can give you a renewed sense of excitement and motivation every morning. Plus, it doesn't hurt that they make for far more interesting backdrops to all those video call meetings!
Contact Rose Building Group to get started on your dream home office today.