How to Embrace the Benefits of Open-Concept Living
Posted on September 29, 2023
Since the early 1990s, open-concept floor plans have consistently ranked high in popularity within the new builds and home renovations in Burlington. This style involves merging the kitchen, living room, and dining room into a continuous room with minimal divisions, making it suitable for a wide range of households, from couples and families to bachelor pads. The open-concept layout promotes a more relaxed and harmonious way of living, optimizing space by creating versatile areas for daily activities. If you're contemplating adopting an open-concept floor plan home renovation in Burlington, the expert renovation contractors at Rose Building Group will help you transform your space.
To learn more about the benefits of open-concept living for your home renovations.
Improve the Perception of Space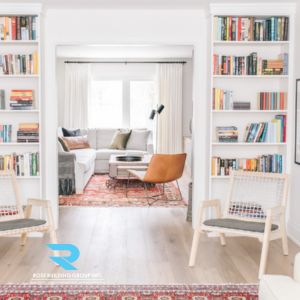 One of the primary benefits of open-concept living is the perception of increased roominess it provides. By eliminating barriers, rooms blend seamlessly, generating a sense of expansive openness. This apparent spaciousness is especially valuable in smaller homes or apartments and is a leading request during home renovations in Burlington.
Harmonious Design
An open-concept layout allows you to design with a cohesive theme that transfers from one room to the next. Working with an interior designer or independently, you can coordinate colours, materials, and decor elements seamlessly across the kitchen, living area, and dining space, resulting in a visually pleasing and thematically cohesive environment.
Increase Natural Light
Open-plan layouts encourage the flow of natural light throughout the entire home. Large windows and glass doors permit sunlight to permeate freely without being blocked by dividing walls, resulting in a brighter, more welcoming atmosphere that reduces the need for artificial lighting.
Enable Effortless Entertaining
Open floor plans often position the kitchen at the heart of the design, with living and dining spaces in close proximity. This arrangement facilitates socializing while cooking and lets guests stay engaged with the kitchen action without impeding your preparations as a host.
Facilitate Family Togetherness
Kitchens in open floor plans often serve dual purposes, providing space for children to do homework or engage in crafts. At the same time, parents can simultaneously cook or relax in the family room. This setup allows for easy supervision while pursuing individual activities.
Flexibility in Functionality
Open-concept living offers remarkable flexibility. Furniture can be rearranged effortlessly, zones can adapt to various activities, and the space can evolve to meet changing needs. It serves as a versatile canvas where you can create, work, unwind, and entertain—all within a fluid environment.
Improved Traffic Flow
Open layouts typically offer smoother traffic flow as there are no narrow corridors or confined spaces, making movement within the home more manageable.
Increased Resale Value
Open-plan designs are associated with contemporary and modern aesthetics. They provide a clean, uncluttered look that appeals to many homeowners. Open-plan layouts are often seen as desirable by homebuyers, which can increase the resale value of your home when you decide to sell.
Making Open-Concept Living Yours with Rose Building Group
Embracing open-concept living is not merely a design choice; it's a lifestyle choice. It fosters a sense of freedom, promotes interaction, and adapts to your evolving needs. If you're ready to transform your home with a spacious open layout, trust the experts at Rose Building Group for kitchen, bathroom, basement, and full-home renovations in Burlington, Hamilton, Oakville and the surrounding areas.