How to Finish a Basement with Low Ceilings
Posted on October 26, 2022
One common room feature that prompts homeowners to proceed with basement renovations is the height of their ceiling. Many older homes were not designed to utilize the basement as a living space and are used for laundry or storage, leaving them with short ceilings that make movement in the basement uncomfortable and use of the space frustrating.
If you don't love the way your space is set up, basement renovations can upgrade your space, adding significant value to your property and enhancing the feel of your basement. While ceilings can't typically be moved with basement renovations, other design upgrades can minimize the appearance of low basement ceilings for a whole new feel. When you're ready to renovate your low-ceiling basement, contact Southern Ontario's trusted home renovation contractors.
Continue reading to learn how you can optimize your basement with Rose Building Group.
Change The Light Fixtures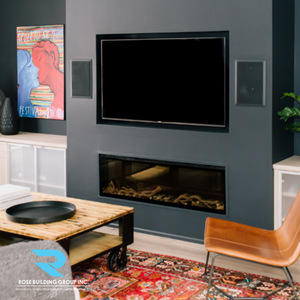 Lighting is a key contributor to how large a space appears. When light fixtures account for too much space or don't illuminate well-enough, it will typically emphasize a lack of space. Incorporating pot lights into a low ceiling during your basement renovation creates the illusion of a larger floor-to-ceiling ratio. It's also smart to stay away from long light fixtures such as pendant lights and chandeliers, to maximize clearance without sacrificing lighting.
The team at Rose Building Group is highly experienced in electrical work and can quickly install customized lighting to illuminate your basement, making it appear brighter and larger.
Shorter & Smaller Furniture
Home renovation contractors emphasize the importance of design, especially furniture when optimizing small rooms. A basement with low ceilings requires furniture and fixtures that do not dominate a room. To ensure your basement is balanced, seek out smaller and shorter pieces such as ottomans and one-seater accent chairs rather than sectionals or oversized couches. choosing decor like plants, it's best to choose items that take up more space horizontally than vertically, drawing the eye across the room instead of upwards. The planning and design team at Rose Building Group is highly skilled in home renovations and can assist with finding the perfect furniture that compliments your basement.
Underpin or Bench Your Basement Floors
Home renovation contractors recommend underpinning or benching your basement floors if you're looking for a permanent solution to low ceilings in your basement. Underpinning your basement involves excavating the foundation to add depth to the lower structure, ultimately making your ceilings higher. Benching your basement floors is another way to add height to your ceilings and involves building a bench or ledge around the basement walls to add more floor-to-ceiling space. The Rose Building Group team has decades of structural work experience and ensures all bathroom, kitchen, basement, and full-home renovations are completed to code.
Expert Basement Renovations
The professionals at Rose Building Group have decades of experience planning, designing, and renovating. With a team of certified and licensed contractors, you can execute your dream basement renovation.
For more design inspiration, check out Rose Building Group's Project Galleries!