How To Renovate Your Small Bathroom to Maximize Space
Posted on October 08, 2021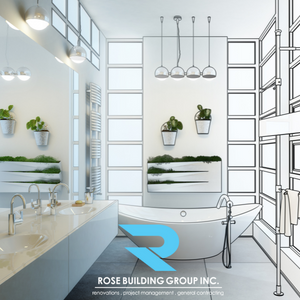 Small bathroom spaces can be frustrating, especially when you have to manoeuvre around the toilet, sink, and shower. It doesn't have to be that way. Planning a strategic renovation of your small bathroom to maximize size can have a huge impact on the comfort and efficiency of your daily routine. With the help of Rose Building Group bathroom renovation contractors, we can help to maximize every inch of your small bathroom.
Things To Remember
The most important thing to keep in mind when undertaking a bathroom renovation is maximising your space with the least possible cost. The best way to do that is by adding storage space. If you add cabinets, you can store extra towels and toiletries, leaving more room for the daily use items. Cabinets painted in soft neutrals can blend with any colour scheme, while the hardware and fixtures should be chosen in a style that matches the bathroom's general design.
How You Can Maximize Bathroom Space
1. Consider the shower
Perhaps the most significant source of wasted space in any bathroom is the shower itself. Now, if you like large showers, then there's not much to be done about that, but if you like taking quick showers, there are ways to eliminate some of that wasted space.
A new, open concept shower design is a great way to maximize the space in your bathroom. An open concept shower has built-in shelves and can be recessed into the wall. It will also allow more natural light to flow into your bathroom and can be easily installed in new construction, converted basements, and smaller bathrooms
2. Opt For A Sliding Bathroom Door
When remodelling a small bathroom, a doorway can sometimes be one of the most unused spaces. A door takes up valuable space, and often times it goes underutilized. The efficacy of a sliding door in small bathrooms is high because it allows homeowners to convert an existing door into a sliding door or into a pocket door. Pocket doors are inserted into the space between the wall and the actual door.
3. Go With A Floating Vanity
When trying to maximize small bathroom spaces, going with a wall-mounted vanity will help make the bathroom look much bigger. Keeping it as close as possible to the wall will leave you with more room in your small bathroom.
TIP: Add a mirror on the opposite wall from the sink and another above the sink to create a more open feeling in a small bathroom.
Contact Rose Building Group For Your Next Bathroom Renovation
Whether you are adding a bit of style or making use of unused storage potential, there are many reasons to invest in your bathroom. Rose Building Group, home renovation contractors, help homeowners create their dream bathrooms. For the busy homeowner, the advantages of engaging a team that manages all aspects of the project can be invaluable. Our home renovation contractors will oversee all aspects of the project, ensuring that it is completed on time, within budget and to your complete satisfaction. Get in touch with us today.