How To Start A Kitchen Renovation
Posted on January 14, 2022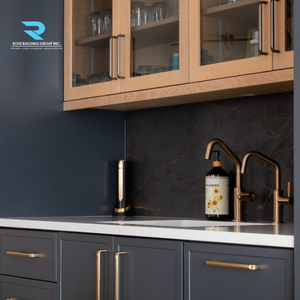 The kitchen is the heart of the home and a popular home renovation choice. Homeowners often start to make changes in this space when they want to update their kitchen or make it more functional. For many homeowners, starting a kitchen renovation is easier said than done. Here the Rose Building Group home renovation contractors have put together some tips that will help you start planning your kitchen renovation. Contact the Rose Building Group kitchen renovation contractors once you are ready to embark on your renovation.
1. Vision
The first step is defining your renovation vision. Before you even begin to renovate, consider how you want your space to function. Will it be a place for the family to gather for home-cooked meals? Do you wish to have a cozy spot for relaxing after a long day of work? Planning out the details will be far easier once you have determined what purpose you want your kitchen to serve.
A well-planned kitchen renovation can make for an efficient workspace, one that is designed with space maximization in mind. Start your project by speaking to a local Hamilton home renovation contractor or designer for guidance on how to transform the layout of your kitchen and find out if there are any rules you should know about before making revisions, like removing walls.
2. Consult A Kitchen Renovation Contractor
If you are planning a kitchen renovation in Burlington, Oakville, or Hamilton, then you should hire a kitchen renovation contractor with a proven track record, ideally 3-5 years. You can find this by asking for references or contacting the company directly to check their work. You should also ask for copies of insurance coverages and their WSIB coverage, as well as if they provide any home warranties. The contractor should also have liability insurance in the case of any accidents on site.
Don't forget that any contractors' work quality is just as important as the price. While asking for a detailed quote is important. You should also make sure that they provide examples of previous work.
The Rose Building Group home renovation contractors have over 14 years of experience. We prioritize bringing our client's vision to life in an ideal timeframe and on budget.
3. Set Your Budget & Timeline
Next, map out a budget and timeline that works with your schedule.
Do your research on what will bring the most value to your home, where you should splurge, and where you have the potential to save some money.
Make a list of what you want and need to do. Head to your local home renovation store and get a feel for what your ideal materials will actually look like and what it's going to cost you.
Be realistic with yourself here. If you want a marble kitchen, you may need to spend more than you expected on cabinets and countertops. If you need something fundamental, you may be able to get away with less expensive materials. You have to ask yourself some important questions and keep in mind who will be living in the space and how it will be used.
TIP: Make a list of priorities when deciding on a budget. Make sure to leave room for you to make the changes you want to see in your home as the renovation progresses.
You will also want to set a timeline for when you want to begin and end the project. Don't try to bite off too much at once, as this can increase stress, cause rushed work, and result in lower quality work. Try to give yourself 45 days from start to finish when choosing a timeframe.
4. Plan The Details
Once you have decided on what projects you would like to accomplish, it is time to plan out the details.
The design of your new kitchen will be the main factor in determining how much your kitchen renovation costs. Look for features that add value to your home, such as a spacious island, an open layout, and backsplash. Other things to consider when choosing a design are the layout, size, and appliances that you want included in your new kitchen design. You should also think about the materials you want for your counters, flooring, and cabinets. All these things will impact the overall cost of your kitchen renovation.
The Right Kitchen Contractors For The Job
With more than 14 years of experience, we specialize in high-quality renovations of homeowners in Burlington, Oakville, and the surrounding area. We're dedicated to our clients, and that's why we offer a full-year warranty on all of our work. We'll work with you to customize your new kitchen renovation experience with expert advice, suitable recommendations, and up-front pricing. Contact us today!