How To Stay On Budget For Your Bathroom Renovation
Posted on March 22, 2022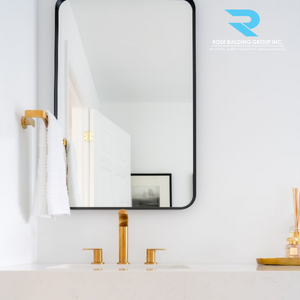 The biggest decision you need to make when planning for a bathroom renovation is how you will stay on budget and stay on schedule. The home renovation company Rose Building Group has been helping clients renovate their homes for years, and our advice to best stay on budget is to plan your budget carefully.
Sticking To Your Bathroom Renovation Budget
There are many things to consider when planning a bathroom renovation, from the cost of materials and fixtures to the time it will take to complete the project. One of the most important factors to consider is your budget. Here our home renovation company has compiled a few tips for staying on budget during your bathroom renovation:
1. Organize Your Project Into Manageable Phases
The first step is to plan your project into smaller phases. It's better to divide your project into several phases rather than do everything in one go. You may still be dealing with the mess and dust two months after you start your bathroom renovation project, and it may turn out to be such a bad experience that you will consider starting from scratch again. It's better to finish one phase at a time, making sure everything is in place before moving on to the next phase.
2. Pay Attention To The Details
During the planning phase of your bathroom renovation, the number 1 rule for staying on budget is to look deeply into every project detail, so you don't underestimate your budget. The best way to make sure you have considered all the little details is to hire a knowledgeable home renovation company like Rose Building Group.
3. Shop Around For Discounts
There are many places where you can find discounts on bathroom materials and fixtures, so be sure to shop around before making any purchases.
Many retailers such as Best Buy, Costco, and Home Depot offer online-only promotions and special offers on bathroom items. Many online retailers also offer free shipping deals, so you can save money with free shipping. When ordering your products, use a coupon code or promo code to save even more money on your bathroom renovation project. If you choose to shop at local home improvement stores, keep an eye out for sales and promotions on bathroom fixtures. Additionally, home renovation companies are able to access exclusive supplier prices, which in turn translates into savings for you.
4. Consider Using Recycled Materials
There are many sustainable options available for renovating your bathroom, such as using recycled materials for flooring and countertops. Lightly used building materials cost a fraction of what you'd pay for something new at the neighbourhood home center. You can shop many resale resources and find plenty of salvaged products online and in salvage yards. With a bit of creativity, you can turn old doors, windows, cabinets and plumbing fixtures into stylish, high-value bathroom renovations.
5. Hire A Bathroom Renovation Company
The best way to ensure your bathroom renovation is completed within your budget is to rely on the expertise of Rose Building Group's home renovation contractors. With more than 25 years of experience, we specialize in high-quality renovations of homeowners in Burlington, Oakville and the surrounding area. We're dedicated to our clients, and that's why we offer a full-year warranty and a lifetime warranty on all of our work.
Contact us today to inquire about how we can work with you to keep your bathroom renovation on budget.