Kitchen Layout Guidance to Beautify Your Home
Posted on July 26, 2022
Design trends are constantly changing, but when it comes to kitchen renovations, you want something that will last you long term. When planning to upgrade your kitchen, the best home renovation companies will help you combine your love for modern trends with home design classics that you're confident will stand the test of time.
A home renovation company like Rose Building Group, with years of experience in kitchen renovations and custom-built designs. Alongside the right company, you can make your kitchen the communal focal point it should be.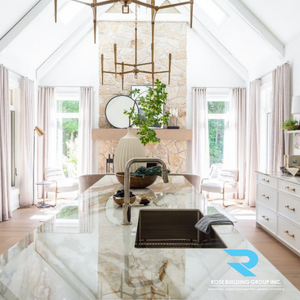 There are four key questions you should answer before committing to any kitchen renovation:
What's trendy now?
What trends are coming up?
What's the best layout for you?
Which home renovation companies will help you get the best results?
Here are some tips for the perfect kitchen layout.
What is Trending in Kitchen Design?
Now, more than ever, we're seeing kitchens becoming a communal space for creativity. That means open concept designs that allow for shared moments in the kitchen and exciting styles that show off your personal style. Whether that means adding colours to your cabinets or bringing in mixed materials for a more exciting aesthetic, professionals in design like those at Rose Building Group can help you to find the balance you're looking for.
Types of Kitchen Layouts: One Wall: The one-wall design is the ultimate space saver, making it the popular choice for loft and studio spaces. With all your cabinets and appliances on one side, you can save on space in your home while maintaining an open space.
Galley: The galley layout is particularly convenient if you're looking for walkthrough space in a smaller kitchen area consisting of two parallel walls of cabinets and appliances.
L-Shape: Make the most out of your medium-sized spaces with an L-shaped layout. Made with two adjoining walls of cabinets and appliances, the L-shape design eliminates traffic and makes it easier to have multiple work zones.
Horseshoe: The horseshoe design might be right for you if you're working with a larger kitchen space. With three walls of cabinets and appliances, this layout gives you plenty of room for multiple work zones and multiple chefs in the kitchen.
Islands: Islands are a super functional addition to larger kitchens and a favourite in modern kitchen renovations. Whether you're looking for more cabinet space or extra workspace, an island can replace a wall in any layout to give you a more open concept design.
Peninsula: If you're lacking in space for an island, then a peninsula might be the solution you need. Essentially, a peninsula acts as a connected island, giving you the practical perks of an island while saving you some square footage.
Start Your Kitchen Renovation with Rose Building Group
When choosing the right team to help you with your kitchen renovation, it's essential to enlist the help of experienced professionals, like the team at Rose Building Group. With the right home renovations company, you can create an easy-to-follow plan for your kitchen remodel that's modern but timeless. The right remodel plan can turn your kitchen into a space you can't wait to show off!
Contact us to start working on your new kitchen.