Kitchen Renovation Design Trends of 2021
Posted on June 04, 2021
In the 90s, a kitchen served simply as the place where meals were cooked and dishes washed. Skip forward to the 21st century, and the kitchen has transformed into the center point of most homes. With the change in functionality comes a change in the design needs. The Rose building Group home renovation contractors want to share with you the kitchen renovation design trends that will be big going into 2021.
Of course, COVID-19 has had a significant impact on the popular design trends emerging in 2021. Trending kitchen designs in 2021 include smart technology and touchless application features with a priority for designing kitchens that maximize storage space and maximize multipurpose uses. Read our blog on the top kitchen design trends and contact the home renovation company Rose Building Group to start your dream kitchen renovation!
Decorative Range Hoods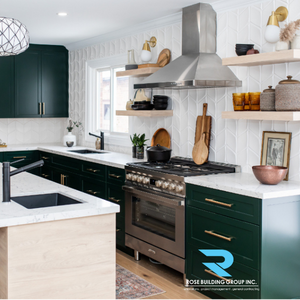 One of the biggest trends catapulting in popularity is the transition from hiding your stove ventilation towards making it a design focal point in your kitchen. We are seeing the change being done in two ways.
One is by seamlessly integrating your range hood with your backsplash or wall tiling. The second and more popular way is a decorative hood. A decorative range hood can feature an accent colour, a slab material like porcelain or marble and is often extended beyond the cabinetry line to bring in an eye-catching element.
Smart Technology
The 21st century is all about technology. Making your next kitchen a "smart kitchen" is one of the biggest trends seen in kitchen remodels in 2021. There are technology integration options for pretty much everything in the kitchen. Enjoy smart technology that can be controlled by your phone like lights, fridges, coffee machines, or add built-in charging stations into kitchen cabinetry.
The future is now, and your smart kitchen is waiting to be built. The Rose building Group home renovation contractors are eager to help upgrade your kitchen to the 21st century; give us a call today!
Increased Storage
Anyone that lives in the Toronto or GTA area knows that real estate is pricey. Making the most use out of your space is the name of the game for many. And for a kitchen, incorporating plenty of storage is always tricky.
One of the critical areas in the kitchen that people are keen to increase available storage in is the pantry. In pantries, basic drawers and shelving leave too much unusable space. Emerging kitchen remodel designs for pantries include appliance garages for kitchen appliances, drawer dividers, roll-out trays for pots and pans, and even deep drawers for large items.
Connection To The Outdoors
Being in a lockdown for over a year has made many Ontario homeowners longing for kitchen design elements that bring a visual and/or physical connection to the outdoors. One of the most popular trends emerging to meet this demand is the addition of large windows that span from the edge of the countertop to the ceiling. This look helps promote an unobstructed view and allows for plenty of natural light and natural airflow.
Large Kitchen Islands
According to the 2021 Kitchen & Bath Trend report, large islands of at least 24 square feet will now be a staple for any post-pandemic kitchen. Why? Because of its amazing multipurpose uses.
The kitchen island is no longer something you squeeze into a small space. If anything, kitchens are being designed around having the kitchen island be the focal point. They will also serve as one of the greatest storage solutions for your kitchen.
Kitchen islands will no longer be just for incorporating additional kitchen seating. No, the kitchen islands of 2021 will be constructed with tons of under-counter storage on both sides. Ensuring that countertop space can accommodate entertaining, food prep and school work simultaneously.
Trust Rose Building Group Renovation Contractors
Now is a perfect time to renovate your kitchen. Let the experts at Rose Building Group work with you to design the ideal 21st century modernized kitchen you have always wanted.
For over 14 years, the professional home renovation company Rose Building Group has been happily servicing Burlington, Oakville, Hamilton and surrounding areas of Ontario. We will work to understand your needs and incorporate the best kitchen design trends. Let us build you a kitchen you will be in love with for years to come.
If you are interested in creating the ultimate kitchen featuring the latest design trends, get in touch with our team of experts today!