Must-have Items For Your Kitchen Renovation In Burlington
Posted on March 11, 2022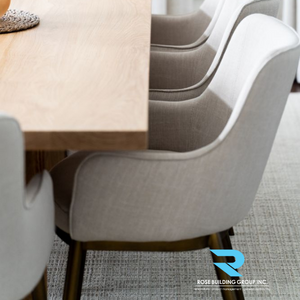 When it comes to kitchen design, every homeowner has their own individual tastes. Some homeowners want a modern kitchen, while others prefer a vintage style; some prefer a sleek and white kitchen, while others want their kitchen to be colourful and bright. With so many different styles out there, it can be challenging to decide on your dream kitchen design for your upcoming kitchen renovation in Burlington.
The kitchen is the hub of a home, and choosing the right design and layout can make a world of difference. However, not all homeowners know where to start when it comes to a kitchen renovation in Burlington. Renovating your kitchen can be both exciting and intimidating for homeowners, but it doesn't have to be! To help our homeowners create a design that is both affordable and functional, the Rose Building Group home renovation company looks at some of the most important items you must have in your kitchen renovation.
Deep Storage Drawers
A lot of people think that they should focus on aesthetics first and storage second, but the opposite is true. Storage drawers are an often overlooked way to clean up any space and add some organization.
Deep storage drawers are a great way to store bulky utensils and kitchen supplies out of sight and provide easy access. Deep storage drawers are a great investment for your upcoming kitchen renovation in Burlington. You can even cleverly place deep storage drawers under your kitchen island. These drawers can hide a plethora of interesting features that would otherwise take up valuable space. Always a great way to give extra room to store pots and pans, knives, and tools, deep storage drawers can also provide added space for canned goods and other food items.
Built-In Appliance Garage
When you're working in a tight space, it's important to keep in mind that a cramped kitchen isn't just annoying; it's also potentially hazardous. Keep everything organized and within easy reach with clever kitchen storage solutions that save space and make food preparation less stressful.
An appliance garage is a perfect solution for storing small appliances, like mixers, toasters and blenders. This frees up counter space by keeping regularly used appliances off the countertop. If your kitchen is already tight on space, consider installing an electrical outlet in your appliance garage; this allows you to plug in appliances and have them ready for use when you need them.
An Organized Pantry
If you're tired of struggling to find that extra bag of chips or bottle of ketchup in your pantry, decluttering and reorganizing your pantry can be a huge help. It's also a great opportunity to swap out old, cheap containers and upgrade to ones that are sturdy and stack nicely. For greater functionality and organization in your pantry, think about designing your pantry to include sliding drawers or a pull-out pantry for your upcoming kitchen renovation in Burlington.
Start Creating Your Dream Kitchen Today
Rose Building Group is a home renovation company bringing high-quality renovations to homeowners in Burlington, Oakville, Hamilton and the surrounding area. We specialize in kitchen renovations in Burlington and surrounding areas. Contact our home renovation contractors today about how we can help design and build your dream kitchen.