Love Your Small Kitchen With A Smart Home Renovation In Burlington
Posted on February 02, 2022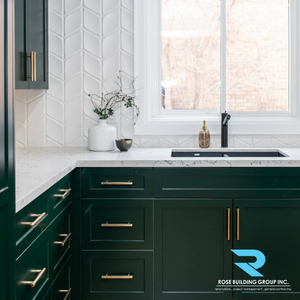 Do you love your small kitchen but feel like it could use a little more space? Are you hesitant to renovate because you're not sure how you'll fit everything in? Don't worry, you're not alone! A lot of homeowners feel this way, but with the help of a skilled kitchen renovation contractor, you can get the most out of your small kitchen. Any good home renovation company can make your small kitchen feel more spacious and functional. You may want to consider adding a kitchen island, upgrading your cabinets or countertops, or installing new lighting. By making a few simple changes, you can make your small kitchen feel like a whole new space. If you're not sure where to start, Rose Building Group kitchen renovation contractors in Burlington can help. We're an experienced home renovation company in Burlington, passionate about helping homeowners achieve their dreams. We'll work with you to create a kitchen renovation plan that fits your needs and budget.
Having a small kitchen can be a bit of a challenge, but you can make the most of the space you have with the help of the right home renovation company.
Here are some tips to help you get started:
1. Add a kitchen island.
Adding a kitchen island can be a great way to add extra storage and counter space to your kitchen. You can find kitchen islands in various sizes and styles, so you can find one that will fit your needs. Some kitchen islands come with built-in shelves or drawers or have extra room for you to add your own storage. While others come with built-in appliances, like a sink or stovetop, which can save you space. The countertop on a kitchen island can also be an excellent place for you to prepare food or eat a meal.
2. Install a pantry.
A pantry can be a great way to store your kitchen supplies and appliances. You can find pantries in a variety of sizes and styles, so you can find one that will fit your needs.
If you're not sure what type of pantry you want or need help deciding on the right size, our team at Rose Building Group can help. We can design and install a pantry that will meet your needs and fit your space. We also offer a variety of high-quality finishes, so you can find the perfect one for your home. Contact us today to learn more about our pantry options.
3. Upgrade your cabinets.
If your cabinets are outdated or too small, consider upgrading them. You can find cabinets in a variety of finishes and styles, so you can find one that will fit your needs.
4. Improve The Kitchen Layout.
Make sure your kitchen layout is efficient! You can have a small kitchen with the best of everything by changing the layout. If you are one of those people who love cooking but hate their space because it doesn't have enough countertop or storage, then this should be what you focus on when planning out your kitchen renovation. Don't get caught up in just tearing out cabinets for more space if that isn't what will make things better--you'll be left with an even bigger mess!
Rose Building Group is a professional home renovation company with years of experience in the field. Our team of home renovation contractors in Burlington specialize in kitchen renovations, making it easy and affordable for you to get the extra space you need. We can also help with basement finishing, bathroom remodelling, and much more! Our team of skilled home renovation contractors will work with you to create a renovation plan that fits your budget and timeframe. We understand that not everyone can afford a full-scale home renovation, so we offer a range of services to suit every need. Contact us today to learn more!