Must Have Feature For Your Next Kitchen Renovation
Posted on September 21, 2021
A kitchen renovation is one of the most popular home renovations done by homeowners, and we can understand why. Not only will it set the tone for the whole house, but it will also refresh and modernize your kitchen, helping it to become a more enjoyable space. Any kitchen renovation contractor will tell you it is also a great way to add value and functionality to your home. There are specific details of a kitchen that need to be just right, and hiring a home & kitchen renovation company that understands the kitchen remodel you are going for makes everything easier. While trends come and go, the kitchen renovation contractors at Rose Building Group have made notable mentions of new kitchen features you should think about including in your next kitchen renovation.
Plan It Out First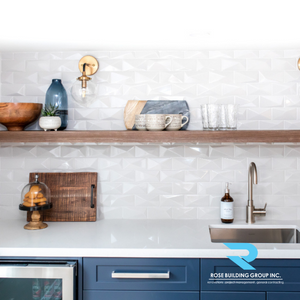 Kitchens come in all shapes and sizes. Kitchens are the heart of the home, and even if you don't have plans to sell anytime soon, you still want your kitchen to be comfortable and functional. If you are thinking of refreshing your kitchen, there is a lot to think about that is not in the budget. Design is a must for a kitchen that will wow your family and friends, and with a custom kitchen, you can choose any cabinet style and finish to match your personal taste.
When renovating a kitchen, you need to match the functionality with the aesthetics, and for many people, storage is the name of the game. An oversized kitchen island makes it easy to incorporate storage spaces in your kitchen. You will create a functional kitchen that is a joy to work in and entertain in by including this feature.
Over-Sized Kitchen Island
A recent trend in kitchen renovations is a large, oversized kitchen island. There are a few reasons why you need this particular feature in your kitchen.
Storage
First of all, an oversized kitchen island is a great place to store your everyday cooking essentials. These include things like your pots and pans, baking trays, cutting boards, serving bowls and more. Your everyday cooking essentials should be easily accessible to anyone who will be using your kitchen at any given time.
Design
The second reason for having an oversized kitchen island is, so the middle of your kitchen looks uniform, and uniformity attracts attention. If your backsplash is uniform throughout the kitchen, then the island will be uniform as well. A great idea is to add pendant island lighting because they never go out of style and they add both aesthetic and practical value
Entertaining
A third reason to have a kitchen island is that it provides an excellent space for entertaining guests during the holidays or any other time of the year. It gives you a lovely space to serve food and eat together as a family. It also helps you save on space by not using your dining room table for entertaining purposes.
Kitchen Renovation Companies Can Help
We may look at home renovations as investing for our future, but they are often an investment in our happiness. According to Stats, the majority of people spend most of their time at home. So your home should reflect who we are and how we want to live, not just for aesthetic purposes but for functionality purposes too. If you are planning to renovate your kitchen, whether to update it or change the entire look, you have a lot of decisions ahead of you. Get in touch with the Rose Building Group Kitchen renovation contractors today to learn more about how we can help you with your upcoming renovation.