Reasons To Invest In A Bathroom Renovation
Posted on February 11, 2022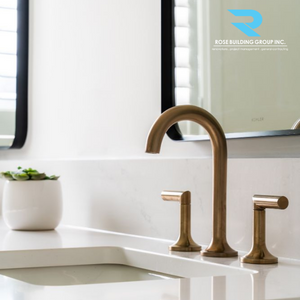 One of our most popular home renovation services in 2021 was the bathroom renovation services we offer to homeowners in Burlington, Oakville and the surrounding area.
Perhaps you're looking to update a tired space or want to add value to your home ahead of a sale. Maybe you're finally ready to make the switch to a luxurious freestanding bathtub or want to install a beautiful glass shower enclosure. Whatever your reasons, a bathroom renovation can be a great way to improve your home life.
The Rose Building Group bathroom renovation contractors have broken down some of the top benefits of renovating your bathroom.
Top Benefits Of A Bathroom Renovation
1. Increased Functionality and Usability
A well-planned bathroom renovation can add valuable space to your current small bathroom. Any experienced bathroom contractor can help you create an outstanding renovation plan that will make the most of your existing bathroom space. With a little bit of renovation work, you can turn your cramped and uncomfortable bathroom into a luxurious and functional space.
2. Make Your Bedroom More Modern
A bathroom renovation can completely revitalize the look and feel of your bathroom. Professional bathroom renovation contractors can help you select the perfect new plumbing fixtures, a new modern bathtub and shower combination, relaxing paint colours and natural stone or tile for your bathroom floor and vanity. With the help of a skilled home renovation contractor, your bathroom can be transformed into a modern, beautiful and relaxing space.
3. Increased Resale Value
If you are thinking of selling your home in the near future, a bathroom renovation is a wise investment. According to most studies, a bathroom is one of the 2 most important features that potential buyers consider when viewing a property. Investing in improving the aesthetics of your bathroom, such as swapping in new modern countertops, faucets, and flooring, can drastically increase the value of your home and attract more buyers.
4. Better Home Energy Efficiency
There are many ways to make your bathroom more energy-efficient, but one of the most impactful ways is to invest in a bathroom renovation. Updating your lighting and fixtures is a great way to start. LED lights are an excellent option for bathrooms, as they use very little energy and last for a long time. They also create a much brighter light than traditional incandescent bulbs.
Another easy way to make your bathroom more energy-efficient is to switch to a low-flow toilet. These toilets use less water per flush, so you'll save money on your water bill in the long run.
Reach Out To Our Bathroom Renovation Contractors
If you're looking to invest in a luxurious bathroom remodel, Rose Building Group can help. We are a leading home renovation company in Burlington, Oakville, Hamilton and surrounding areas, specializing in bathroom, kitchen and basement renovations. We only use high-quality products and materials in our renovations. Our skilled contractors are experienced in all types of renovations.
We understand that every homeowner is different. That's why we offer a wide range of home renovation services. We want to ensure that your renovation meets your specific needs and desires.
If you're interested in beginning a bathroom renovation project, contact Rose Building Group today for a consultation. We would be happy to discuss your renovation needs and provide you with a quote.