Renovate Your Dream Basement With Home Renovation Contractors
Posted on August 23, 2021
A basement is a great way to find extra space in your home, add property value and bring a unique room to your home. Full home renovation companies like Rose Building Group will guide you through the entire process of a basement remodelling and renovation project from start to finish. Whether you are looking to completely transform your basement into something that you can use every day or just looking to make your space a little nicer, the Rose Building Group home renovation contractors can provide a whole gamut of services.
From installing new bathrooms and kitchens to building home theatres, bars and gyms, choosing to hire renovation contractors versus going the Do-it-yourself route means that you have more flexibility in how you complete your basement remodelling and renovation.
Basement Renovations Add Home Value and More!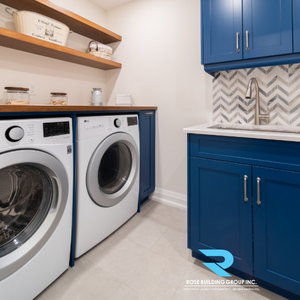 When you renovate your dream home, one of the rooms that might get overlooked is your basement. Basement remodels, and renovation projects for homeowners can range from simple to complex projects. The best way to approach a basement renovation is to start with a clean slate. The help of a professional can make the process easier and more enjoyable. With the help of skilled renovators, you can incorporate extra features that can include rooms such as home gyms, home theatres, wine cellars and bars and more!
A Full Home Renovation Company Can Offer More
When it comes to your home, you want the best. When you are planning to completely renovate your basement, whatever your vision may be, hiring a full home renovation company can do all of the work for you. Committed to getting top-notch results and ensuring you're satisfied with the final product, Rose Building Groups' expert renovation contractors can collaborate with you on what kind of design you want your dream basement to be.
The team at Rose Building Group has 14 years of experience working in the home renovations industry. We have experience in a wide range of services, including basement finishing, bathroom renovations, full house renovations and kitchen renovations. We can ensure that you are getting everything you wanted out of your basement renovation: updated flooring, a sleek new pendant light over the bar area, and even a sleek home theatre system for a movie night with friends.
Contact the professionals at Rose Building Group today. We will provide you with an initial consultation to help you determine the best fit for you and your family. From there, a free quote will be provided so that you can obtain a sense of the work to be done.
The Importance of A Good Basement Renovation Company
When it comes to renovating your basement, one of the most important things to consider is finding a company with years of experience. While many people who are new to construction may think that renovating a basement is similar to renovating a kitchen or bathroom, this is entirely false. Remodelling your basement requires expertise, and that's why it's best to hire an Ontario basement renovation contractor.
Start Building Your Dream Basement Today
When you choose to hire full home renovation companies like Rose Building Group, they can brainstorm with you what exactly you want your basement remodel to look like. With thousands of satisfied customers, our team of home renovation contractors has the expertise to design and install the latest in basement renovation designs. From concept to completion, we manage every aspect of your renovation project from start to finish.
Get in touch with our team of home renovation contractors today!