The Hottest Basement Remodeling Trends of 2021
Posted on May 17, 2021
With most of us stuck on stay-at-home orders, getting the most use out of the available space in your home is critical. In the past, you might have considered your basement as a place for storage and had no interest in undertaking a basement remodelling project. Now, homeowners realize that a finished basement can offer more space for their family and increase the overall value of their home.
Rose Building Group, a GTA-based home renovation company, are experts in the basement remodelling field. Home renovation companies constantly see shifts in basement remodelling trends, driven by changes in style and the need for convenience. With one finger always on the pulse of design trends, here are the hottest trends home renovation companies expect to see in 2021.
Storage, Storage, Storage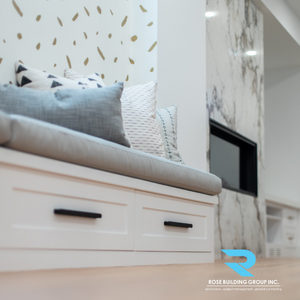 With basement remodelling, many customers want to increase their living space but still need the ability to use their basement for storage.
One great way to include storage in your basement remodelling design is by adding built-in shelving. Not only is it an excellent storage solution, but integrated furniture brings an element of flair to a basement design.
Open Concept Layout
Open concept layouts have been a popular home design choice for a few years now. Getting rid of useless walls can remove the feelings of a "cramped" space, take advantage of the natural expansive nature of a basement, and bring a modern update that encourages community.
With larger basements, you can have multi-purpose spaces or designated areas such as a theatre room, home gym, or bar area, all open to a central place. For the smaller basement, you can separate specific spaces with strategic placement of furniture.
Have A Fluid Design
In previous years, basement remodelling trends focussed on making the basement the unique spot of your home. Because the basement is somewhat 'hidden' people, were experimenting with bold colours and encouraged to be free with their choice of styling.
Entering 2021, basement remodelling trends show a focus on renovating your basement as an extension of your upstairs living space. From one floor to the next, the finishings, colour and overall design style remains the same.
By keeping the design choice consistent with the remainder of the house, your basement feels like any other room in your home. Extending the style to the basement creates an easy transition from your home to your new extra living space. The basement isn't seen as a downgrade from the rest of your home but on par to the main living space.
Theatre Rooms Are Back
Who knows when we will be able to sit in a movie theatre again! Bring back the nostalgic movie experience with the investment in a home theatre or media room.
When considering your media room design for your basement renovation, any home renovation company will say homeowners have two options to choose from, an open TV space or an enclosed room.
For the real movie enthusiast, we recommend an enclosed TV room so you can incorporate all the elements needed to enhance your experience. Such as a projection screen, surround sound system, plush reclining seats and maybe even a designated setup for snacks. A traditional home theatre like this is the ultimate dream for most homeowners.
Make Friday nights something to look forward to again. If you have the space required, Rose Building Group can help you design the home theatre you have always longed for.
Of course, if you are looking for a more cost-efficient and straightforward setup, an open concept TV room that has the feel of a family room but is equipped with the necessary media equipment might be right for you. Rose Building Group can help you integrate a bar area or kitchenette into your basement design and create the ultimate entertainment experience.
Adding A Bedroom Suite
One of the most popular bedroom remodelling trends in 2021 is creating complete guest suites for friends and family visiting. This isn't just an extra bedroom; the design trend is all about creating guest suits that incorporate an on-suite bathroom, a wet bar and, if space permits, a small lounge area.
Creating a guest suite in your basement is excellent for homeowners who have family who often visit for extended periods or have many out-of-town friends.
Call Rose Building Group For Your Next Basement Remodel
For over 14 years, Rose Building Group has helped clients design and renovate their dream homes. We built our company by focusing on providing high-quality residential renovation services and developing strong relationships with our clients.
If you are looking into undertaking a home renovation this year, whether it be your kitchen, basement, or bathroom, Rose Building Group can help! Contact us today.