The Modern Kitchen Renovation: Must Have Upgrades
Posted on July 06, 2021
Rose Building Group kitchen renovation contractors constantly keep their fingers on the pulse of the latest design trends. While many home renovation companies servicing Burlington, Oakville, Hamilton, and surrounding areas of Ontario, Rose Building Group is one of the premier companies. Transforming outdated kitchens, bathrooms, and homes into stunning, modern and elegant spaces.
Rose Building Group kitchen renovation contractors work with you to design and build a kitchen that meets all of your needs. If you are thinking about upgrading your kitchen, look at these popular design trends that are a must-have for any kitchen renovation in 2021.
Try Out Dark Colour Tones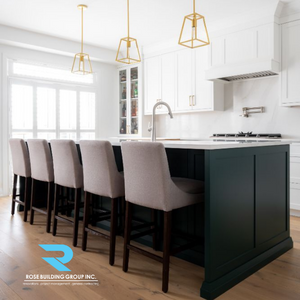 In 2021, we finally see those bland white cabinets are slowly on their way out! The Rose Building Group kitchen renovation contractors anticipate seeing kitchens using various wood stain colours and paint colours. Choosing to incorporate dark tones the correct way will not make your kitchen look smaller, as many fear. Choose a popular neutral shade of blue or green to create a welcoming and inviting ambiance.
Smart Accessories For A Smart Kitchen
In 2021, it should be no surprise to see that technology is finally being incorporated into our kitchens through advanced appliances and gadgets. New kitchens constructed in 2021 are being built smart from the start. Hiring a renovation company can help you get exclusive dealer discounts on these exciting new smart appliances! Contact Rose Building Group today to learn about how we can upgrade your kitchen to a smart kitchen.
Our Top Three Smart Kitchen Tech:
Lg's HomeChat Feature

Text your appliances, and they will react! Going on vacation? Let your fridge know so that it enters power-saving mode!

LG's Smart Fridge

A smart fridge can ensure you stop letting your groceries go bad, store recipes and provide entertainment during meal prep!

GE's SmartHQ

Download the app on your smartphone or voice control with Alexa or Google Assist to turn on or off your oven, monitor cooking status remotely, and more!
Ceramic Tile Flooring For Your Kitchen
While limestone and hardwood are still popular kitchen flooring options, Rose Building Group kitchen renovation contractors see a popular third option trending, ceramic tile. With new advances in technology, there is now a more extensive selection than ever before of different colours, designs, styles and sizes to choose from.
If you like the look of hardwood floor kitchens but also want flooring that is effortless to maintain, ceramic flooring might be the perfect option for you! Ceramic tile flooring can also now be designed to imitate a range of natural stone - right down to the surface texture!
Our expert kitchen renovation contractors can work with you to decide what type of flooring works best for your home and lifestyle.
Let's Upgrade Your Kitchen!
Rose Building Group has been helping clients design and renovate the home of their dreams for over 14 years. If you want to hire an experienced home renovation company and work with knowledgeable kitchen renovation contractors, get in touch with our talented team at Rose Building Group. We look forward to bringing a high-quality renovation into your home!