Tips For a High End Kitchen Renovation
Posted on June 24, 2022
With trends and modern home designs always changing, settling on the perfect layout and finding the right home renovation company to work with, can be tricky. When you have a vision for your design and layout, the hardest step is making that dream kitchen a reality. But with a kitchen renovation company that you trust, you can leave all your worries behind you. Whether you're moving into a new place or looking to transform your home, the experts at Rose Building Group are here to walk you through the process.
Read on for some tips on how to achieve a high-end kitchen renovation.
Hire a Professional Company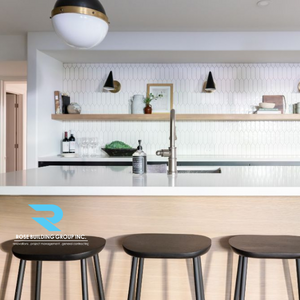 The first tip for a high-end renovation is to make sure you choose the right home renovation company. You want to ensure that the renovation company you use is credible, affordable, trustworthy, and provides incredible service.
Choose Your Style
When renovating your kitchen, one of the first steps is knowing what style you prefer. A credible kitchen renovation company will consider your specific wants and needs whether you prefer from accents to modern or traditional themes. You may consider designing your kitchen based on other renovation styles in your home, or you might want a brand new kitchen that stands out from your other rooms. Whatever it may be, Rose Building Group has the tools, skills, and experience to help you plan exactly what you want your kitchen to look like. We go over the basics such as counter surfaces, organization/storage, and cabinetry to establish a theme - making your kitchen sparkle with high-end personalization.
Plan The Layout Beforehand
Your kitchen layout can make all the difference, which is why finding a trustworthy company is essential. Islands, additional sinks, windows, flooring, and more can be incorporated into the layout design the way you please. High-end renovations not only rely on material and finish, but also how to layout your room. At Rose Building Group, we only hire the best tradespeople to work for our team. Our group of individuals are skilled, licensed, and professional tradespeople specializing in project management and residential renovations, ensuring your kitchen looks its absolute best.
Make Sure You Love It
Before renovating, you want to ensure that you love your design and colour choices. The worst is agreeing just because you're afraid to speak up. When renovating for a high-end kitchen, home renovation companies should consider the small details. Even the most minor features such as a double sink in your island can make a huge difference when the kitchen is finished. At Rose Building Group, we want to hear your opinions and can adapt to any renovation changes you make.
Why Choose Rose Building Group
At Rose Building Group, we pride ourselves on satisfying our customers to the best of our abilities by providing the best service possible. With over 14 years of experience in all aspects of home renovation, we are confident that we will be able to leave you more than happy with your home renovations. We make sure to tidy up after work, prioritize customer service and communication, and have the latest technology and building materials to ensure quality products are put into your property. This is your home, so we want to make it perfect for you.