Tips for Choosing the Best Kitchen Flooring
Posted on December 16, 2022
Kitchen floors endure a lot! Whether they're a stop on the way to another room or you're cooking a meal, your kitchen is inevitably a high-traffic area. If your floors are beginning to look worn or you feel like they're losing their vibrance, it might be time for home renovations in Oakville or Southern Ontario. Reach out to Rose Building Group, where the team of experienced kitchen contractors and designers will help you revitalize your entire kitchen, including your flooring.
Your kitchen floors should be easy to clean, durable, and reflect your style. With many options available, the team of kitchen contractors at Rose Building Group can help you choose the flooring that best meets your everyday needs. Don't hesitate to upgrade your flooring for the best home renovation in Oakville.
Keep reading to learn about the different types of floors you can choose!
Hardwood Kitchen Floors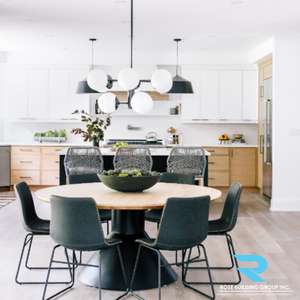 Hardwood flooring feels very pleasant underfoot. Hardwood is a comfortable and inviting option if you want kitchen flooring that matches other rooms in your home. Hardwood is either solid or a veneer and used to be considered gauche for kitchens and bathrooms because of moisture and humidity. This problem has mainly been solved thanks to modern sealers. Hardwood is durable and easy to clean, but over time will show marks and dents. You can always sand these down, and hardwood has excellent resale value.
Luxurious Stone Floorings
Because of its porous nature, stone flooring should be sealed upon installation and twice yearly. Stone is timeless and classic looking, which adds an element of simplicity and luxury. There are a few beautiful stone options, including marble, limestone, and sandstone. Reach out to our Rose Building Group team to learn more about each type of stone. This kind of flooring also has a great resale value.
Durable Vinyl Kitchen Floors
Simple and budget-friendly, vinyl is a popular option for the DIY-inclined. Various styles and designs are available in vinyl; all are stain- and waterproof, making them very durable. Vinyl flooring feels slightly soft underfoot, making it great for long cooking stints with lots of standing. It wears and fades with lots of use, so be prepared to replace your vinyl flooring every ten years.
Long-Lasting Ceramic Floors
Ceramic is good-looking and durable. So durable that it can last indefinitely in the right conditions. Resistance to both heat and breakage makes ceramic a durability champion. Ceramic tiles come in a wide range of colours and patterns, so your style can shine. It can be cold and hard underfoot, so you might need socks or slippers, especially in the winter.
Sustainable Cork Floors
Resilient and waterproof are two of the reasons customers will choose cork flooring. Cork is a sustainable material made of tree bark and is environmentally friendly. It will come pre-finished but must be resealed every two to three years to prevent stains and scratches. Cork comes in tiles or planks in an array of patterns and colours.
Classic Linoleum Floors
Linoleum is making a big comeback, being both inexpensive and easy to clean. It stands up well to foot traffic and is quite durable. Linoleum is moisture-resistant but can stain easily unless a protective cover is applied. Linoleum is also a green choice made from linseed oil and cork powder. It can last for decades and is gaining modern appeal.
Whatever flooring material you choose, the home renovation contractors Rose Building Group is here to help you transform your space.