Tips for Upgrading Your Cabinets
Posted on October 19, 2023
From kitchens and bathrooms to storage areas in enhanced basements, upgrading your cabinets is an excellent way for renovation contractors to breathe new life into your home during renovations in Southern Ontario. Whether you're aiming for a complete kitchen remodel or you're looking to refresh your bathroom, cabinets are a vital part of your home renovations in Hamilton and play an essential role in defining the overall aesthetics and functionality of a space. If the job at hand seems like a tall order, professional renovation contractors, Rose Building Group, can help.
Here are some essential tips to consider when upgrading your cabinets.
Refinishing and Paint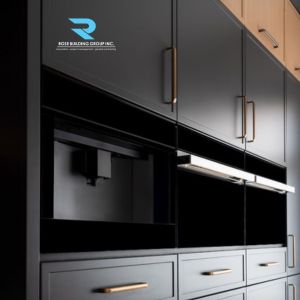 Updating the colour of your cabinets is a good way to revamp your cabinets without a complete replacement. By meticulously sanding the existing finish and applying a fresh coat of paint or stain, you can completely rejuvenate their appearance. The leading renovation contractors at Rose Building Group offer luxurious interior design insight. They can guide you on a colour that harmonizes with your overall interior themes, be it a neutral palette for a modern touch or a vibrant hue for a more eclectic style.
Don't overlook the importance of updating the cabinet hardware, including handles and knobs, to achieve a cohesive and polished look. Another excellent method to introduce some captivating elements to your kitchen cabinets without being too extravagant is by applying a two-toned, fresh layer of paint.
Updated Hardware and Functional Additions
The appearance of your hardware may seem like a detail, but these elements on your cabinet can elevate your kitchen, bathroom, or any space on your property. Trade out older handles and knobs designs that may have been installed when the property was built and knobs for contemporary, stylish alternatives that align with your chosen design scheme. Additionally, consider incorporating practical accessories like pull-out shelves, lazy Susans, or custom-made drawer organizers to optimize storage and maintain impeccable organization.
Illuminate Cabinets with Proper Lighting
The appropriate lighting can be a game-changer when enhancing your cabinets. By installing energy-efficient LED lights underneath the cabinets, you can illuminate your workspace and accentuate the cabinet contents. These lights not only improve visibility but also enhance the ambiance. Depending on your electrical preferences, choose between hardwired or battery-operated options. Renovation contractors at Rose Building Group can advise which decision is best based on your design plans.
Incorporate Glass-Front Cabinets and Open Shelving
To achieve a modern and spacious appearance, contemplate transforming select upper cabinets into glass-front cabinets or open shelving units. This enables you to showcase decorative items and ensure easy access to frequently used items. Glass fronts impart an airy and sophisticated ambiance to your kitchen. In contrast, open shelving imparts a more informal and contemporary feel. Maintain these spaces in an organized and clutter-free manner to preserve the desired aesthetic. Glass cabinets during kitchen renovations open the space up, transforming smaller kitchens into more comfortable rooms.
Cost-Efficient and Timely
Many individuals believe that their home renovations in Hamilton and the rejuvenation of their kitchen cabinets involve a substantial amount of effort, and often, they are correct; it does demand some hard work. However, it's not as challenging as it may initially appear. You can easily revamp your kitchen cabinets without disrupting your busy schedule. You can achieve a stunning kitchen transformation that efficiently brightens your home with Rose Building Group.
You Are in Good Hands with Rose Building Group
By focusing on these critical aspects, you can upgrade your cabinets effectively, enhancing both the visual appeal and functionality of your home with expert renovation contractors at Rose Building Group.