Top Kitchen Layouts Trending in 2021
Posted on May 06, 2021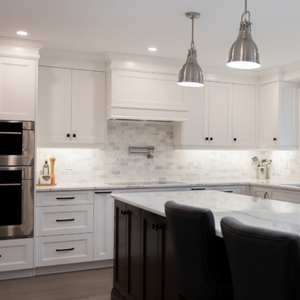 The kitchen is often the center point of any home. Often your kitchen acts as so much more than just a place to cook food. Going into 2021, kitchen contractors are reporting a shift in the functionality and usage of the kitchen. The kitchen is now the place where everyone meets, homework gets done, and where the entertaining takes place.
Over the years, the purpose of the kitchen has changed and thinking about these changes when planning a kitchen remodel is very important.
Rose Building Group is a home renovation contractor that always keeps up to date with the latest home improvement trends. Our kitchen renovation contractors can provide expert advice regarding the design, layout and functionality of your kitchen.
2021 Popular Kitchen Layout Designs
Galley Kitchens
The galley kitchen layout, also known as a corridor kitchen layout, first skyrocketed in popularity in the early 1900s. It is becoming popular again because many homeowners find themselves tight on kitchen square footage. The galley kitchen layout maximizes all available wall space by consisting of two rows of cabinets facing each other. By removing the option for corner cabinets, you forgo wasting any space. This uncomplicated kitchen layout makes cooking super-efficient with plenty of surface space for prep work.
One of the best parts about a corridor kitchen layout is that with the help of professional home renovation contractors, you can customize your kitchen to work for you. Rose Building Group contractors can help you plan out your kitchen footprint, provide suggestions on best practices, and create a specific kitchen layout that caters to your needs.
L-Shaped Kitchens
Probably one of the most popular kitchen layouts, the L-shaped kitchen layout is loved for the design flexibility that it offers. Cooks gravitate towards this layout because of the quick transition ability between cooking stations and the ergonomic triangle created.
The L-shaped kitchen layout is an excellent maximizer of corner space. The open plan concept offers home renovation contractors placement flexibility when it comes to the location of appliances and designated kitchen stations. A design feature popular with this layout is using vibrant colours on one of the walls to bring positive energy and joy into the room.
A note about this design is that it will eliminate foot traffic as the layout logistically prevents this. If your kitchen is a central component of our main floor space or your kitchen is large enough to incorporate other configurations, this layout may not be the best solution for you.
U-Shaped Kitchens
Kitchen contractors love this layout for larger kitchens because the layout offers tons of storage space and the ability to create fluid work triangle stations. The layout has picked up in popularity because the design provides an easy flow of traffic and dual usage of counter space. In 2021, many U-shaped kitchens incorporate open shelving rather than traditional cabinets to create a feeling of ample open space.
Over the years, a U Shaped Kitchen, or "horseshoe" layout variation, has emerged, where instead of having 3 walls, the third wall is formed by inserting a kitchen island. Commonly seen with this variation is having the kitchen island double as a cooking station on the one side and the eating area on the opposite side. One thing to note is that with two corners, it is essential to maximize the use of this space by adding pull-outs or carousels.
If you often have many cooks in the kitchen or if your kitchen space is separate from the dining room, this is an excellent layout for you.
Large Islands
Large kitchen islands are the go-to layout design for those who love to use their kitchen for socializing and entertaining guests. When designed by the right home renovation contractors, a large kitchen island can incorporate lots of storage space, offer hidden appliance storage, and a large cooking surface.
The most efficient layout is to have your island by the center of the kitchen. This way, your island can be utilized for dual purposes - it can act as the center point for where friends and family gather while meals are prepared.
This kitchen layout is best used when your kitchen is large enough to fit a large island and can be placed in a way that doesn't hinder the room's natural flow. A typical design feature is to install prominent lighting fixtures above that also double as task lighting.
Get Help From Knowledgable Kitchen Contractors
When looking to renovate your kitchen, the planning stage is the most important. By working with the home renovation contractors at Rose Building Group, we can help you assess the functional needs of your kitchen and offer unique features specific to your design preferences.