Kitchen Renovation Trends to Expect in 2023
Posted on December 26, 2022
A new year means new kitchen renovations. For many of us, creating our own kitchen space is a life goal; having the perfect appliances in the right place, with beautiful details that are as practical as they are aesthetically pleasing. It may seem like a dream, but with experienced home renovation contractors like those at Rose Building Group, you can give yourself an Oakville kitchen renovation that's trendy while still being true to you.
Continue reading to find your kitchen vision with these trends that we'll see more of in 2023.
Stacked Appliances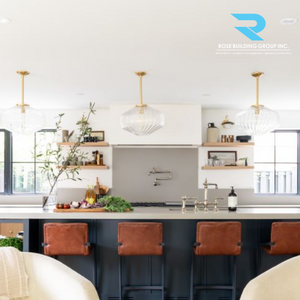 Stacked appliances are a go-to for kitchen renovations, whether you're looking to save some space in the kitchen or want a sleeker look to your area. Functionally, stacked appliances keep all your most used appliances in one section of the kitchen to cut down on time when you're cooking. Aesthetically, they help your kitchen space look cleaner and more minimal.
Farmhouse Styles
Unsurprisingly, the farmhouse style has been a staple in kitchen renovations for quite some time now. From weathered-looking wood countertops to large ample appliances, the farmhouse kitchen aesthetic perfectly combines cozy style with functionality. Experienced renovation contractors like those at Rose Building group will tell you that your home should work for you, and in 2023, kitchen renovations are all about practicality.
Two-Tone Cabinets & Countertops
Complete kitchen renovations in Oakville can be a big undertaking, but a new paint job can be a great place to start for those looking to dip their toe into an updated style. Two-tone cabinets, in particular, can give your kitchen a renovated look that's both modern and fun.
Brass & Stone Accents
Similarly, accent pieces can give your kitchen a completely renewed look without the need for a complete kitchen overhaul. Brass and stone accents create a stylish juxtaposition that takes any kitchen renovation to the next level.
Sinks
Sinks are often the unsung heroes of the kitchen. We use them daily, whether for cooking or cleaning and in 2023, they'll shine. The most significant trend for sinks is practicality. That means easy-to-clean surfaces, spacious bowls and flexible nozzles that make your kitchen more functional. When it comes to sinks, the more they can do for your, the trendier they are.
Tiles & Backsplashes
It can be easy to overlook them, but in 2023 tiles and backsplashes are going to take a starting role in kitchen renovations. From unique colours to complex designs, your backsplash can take your kitchen from average to exciting. Likewise, if you're looking to bring in bold accents, your backsplash can tie in the whole décor to give your kitchen a more unified look.
Professional Kitchen Renovations in 2023
In 2023, give yourself a kitchen that is as beautiful as it is practical. Contact the experienced team at Rose Building Group to set up a consultation with professionals that can guide you through the renovation process. They'll work with you to figure out what you need from your kitchen in 2023 to create a final product that's trendy and useful.