Basement Renovation Trends That Will Modernize Your Space
Posted on December 17, 2021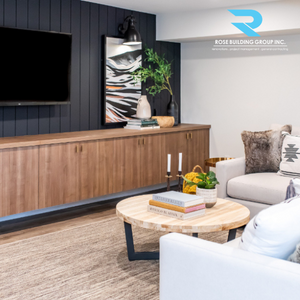 Basements were traditionally used as storage rooms and laundry rooms, but over the years, the basement has become a popular place for homeowners to finish to incorporate additional living space. We see many basement renovations in Oakville where homeowners use the once underutilized space and finishing their basements into an extra bedroom, family room, home office, or entertainment space.
With the right team of home renovation contractors in Oakville, you can transform your basement into a comfortable and beautiful living space. With the current state of basement renovations in Burlington, homeowners are looking for creative design and smart functionality to help their basements stand out.
With new ideas and styles of home renovations are coming out, it is easy to get carried away into impulsively creating during bathroom renovations. However, some designs that have been integrated into basements have become dated in the growing industry of home renovations. The tiny details are the first thing you want to keep an eye out for when doing a basement renovation. This can be anything from paint colors to flooring finishes and much more. Each of these details can make a big difference in how warm and inviting your space feels.
Here are some design choices that you should avoid to prevent your basement from looking outdated:
Carpet:
While many basements of the past featured carpet flooring, in the modern age, basement renovation contractors are steering away from putting carpet in the basement because it can make your newly renovated basement quickly feel dated. A variety of stylish, modern options are available on the market, even for basement flooring now. Tile is a unique basement flooring option that can help make your basement look clean and sleek. To keep your new basement looking current and on-trend, consider upgrading to modular tiles like porcelain, concrete, glass tiles, or even textured or patterned flooring.
Drop Ceilings:
Drop ceilings were a popular design choice in the 70s, but the demand for this look has steeply declined. In the past, drop ceilings were loved because they were cheap, easy to install, required no painting, and could easily be removed.
The Rose Building Group home renovation contractors in Oakville urge you to ditch your outdated drop ceiling and consider other modern basement finishing options.
A Lack of Technology:
Homebuilders and homeowners alike have embraced technology and the IoT (Internet of Things). These devices are being used to create a smart home, from smart thermostats to connected lighting. Buyers have stated they are more attracted to basements that incorporate technology. A lack of technology in your basement can make it seem dated, even if you recently underwent a basement renovation in your Oakville home.
Final Word
Rose Building Group is a home renovation company with more than 25 years of experience, bringing high-quality renovations to homeowners in Burlington, Oakville, Hamilton, and the surrounding area. Specializing in basement, bathroom, and kitchen renovations. We're dedicated to our clients and that's why we offer a full-year warranty on all of our work. We'll work with you to customize your new basement renovation experience with expert advice, suitable recommendations, and up-front pricing. Contact us today!