Where to Look for Inspo for Your Bathroom Renovations
Posted on October 31, 2022
Getting started on your bathroom renovation is exciting. With help from experienced home renovation contractors, you can enhance your space to suit your style and your needs, but first, you need to make many choices in regard to designs, styles, fixtures, textures, and decor. Many property owners working on bathroom renovations have a difficult time finding inspiration. If you're not sure what design elements to choose for your bathroom renovation, reach out to the experienced Rose Building Group team and follow these tips below.
Read Home Renovation Blogs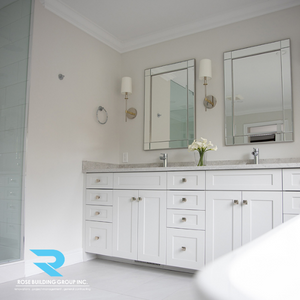 From unique bathroom renovation ideas to guidance on updating your space, the Rose Building Group's Blog has tips and tricks to help you with your home renovations. Home renovation contractors use their websites to share modern trends and styles that will address a variety of concerns. Whether you're trying to get more out of a tight bathroom space or just looking into how to make it feel more luxurious, the Rose Building Group blog has plenty of information to help you narrow down your choices.
Follow Renovation Contractors on Social Media
If you're more of a visual learner, then social might be the place for you to find inspiration. Instagram, in particular, is a great space to see real-life examples of home and bathroom renovations. Check out Rose Building Group on Instagram to watch experienced home renovation contractors' projects from start to finish. Follow along to see new projects, before-and-afters, and style inspirations to spark your creativity.
View Project Galleries
If you want a more in-depth view of past projects, the Rose Building Group's website has Project Galleries featuring more detailed images of bathroom renovations. Sorted by past projects, you can see the renovation choices other homes in Burlington and the GTA have made to take their projects to the next level. From close-cut shots of waterfall shower heads to wide shots of marble countertops, you can see all the details that go into a complete bathroom renovation.
Consult with a Professional Renovation Company
Once your creative juices are flowing with ideas for your bathroom renovation, contact a professional renovation company like the team at Rose Building Group. Working with a team of professionals that understands your space and specializes in bathroom renovations, you will be able to get more personalized advice that makes sense for you. During your consultation with a home renovation contractor, it's a good idea to discuss your family's unique needs, concerns, goals, and challenges for feedback on how to move forward.
The Home Renovation Process
Every home renovation contracting company has its process. To start your project with the Rose Building group, you must complete an online request form to schedule your in-home consultation. Inquiries and an initial site visit come at no financial commitment, so you can ensure your ideas align with the team before going forward. For more information on the renovation process, check out the process page on the Rose Building Group website.
From your first consultation to your final post-renovation walkthrough, Rose Building Group is with you every step of the way. With detailed engineered drawings, designs, and planning, the Rose Building Group will use their years of hands-on expertise to help you throughout the renovation process. Put your renovation in trusted hands with the contractors at Rose Building Group and get the job done right.