Why Incorporate Primary Bedroom into Home Renovations
Posted on April 14, 2023
Spring season is often the peak selling season for home sellers. Sellers and their real estate agents work together to stage the house and perform all necessary renovations to increase the home's value and the sale price. Often, homeowners contact home renovation contractors to renovate their homes' main living area, which is usually a key focus. However, one should always consider the value of renovating their primary bedroom. Home renovation companies in Oakville, Burlington, and Hamiton can transform a primary bedroom into a complete oasis of relaxation. Rose Building Group has extensive experience transforming an ordinary primary bedroom into a sanctuary.
Read on to learn why you should work with the leading home renovation contractors to upgrade your primary bedroom.
Increases Home Value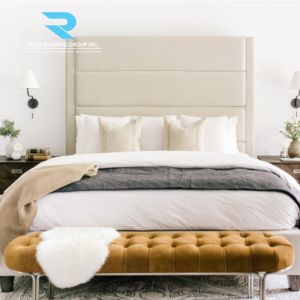 When a home renovation contractor redevelops a room into a more stylish or relaxing space, it can immediately increase the home's value. Often when staging a home with beautiful furniture and accessories, the goal is to help make a buyer feel more enticed to make the purchase and foster a desire to live in the property; this occurs even though the furniture and accessories often do not come with the property. So imagine when the floors, paint and trims are changed; this would undoubtedly increase the home's appeal as these upgrades will remain with the new buyer.
Working with quality home renovation contractors with years of experience will help guide you in this primary bedroom transformation so you receive the greatest return on investment for your dollar.
A Place to Relax and Save
Needless to say, a primary bedroom renovation is not only restricted to the purpose of selling a home. Homeowners will derive significant benefits from an exquisitely renovated space. With a reputable and skilled home renovation company like Rose Building Group, you can take a basic bedroom and make it feel luxurious and thus give you the benefit of feeling you are staying in a five-star hotel every time you enter your bedroom.
This can help you unwind after a hectic day or just find a place in your home to relax rather than feeling you need to spend money on a getaway.
Interior design can create a highly effective impact on how one enjoys or feels in a particular space. Working with home renovation contractors at Rose Building Group, can help you explore your options and ideas to create a primary bedroom you are excited to go to and relax in.
The changes one can make to their primary bedroom are endless, from changing floors, installing a fireplace and adding a new fresh paint colour can rejuvenate a space tremendously.
Primary Bedrooms & Home Renovation Contractors
Rose Building Group is a team of passionate, qualified professionals who deliver top-tier work in the renovation sphere. You can rely on us to provide the best quality materials, tradespeople and craftsmanship for any project. Our talented home renovation contractors will help you transform your home into a work of art for you and your family to enjoy. We use liability insurance and city building permits with our projects. We offer a commitment-free site visit where we can explore your ideas and see how we can bring them to life.
Contact Rose Build Group today to bring your housing renovation dreams to life.