2023 Must-Have Primary Bathroom Remodel Additions
Posted on June 05, 2023
The good weather has finally arrived, which often marks the commencement of home and bathroom renovations in Oakville. While many homeowners have a grand vision of what they want their newly renovated home to look like and feel like, they often start by targeting one room at a time. As you work your way through the entire property, primary bathroom renovations are a great place to start, as it is a personal space that you can curate to meet your style.
If you are about to begin bathroom renovations in Oakville this summer, let's explore some of the 2023 must-have primary bathroom remodel additions that home renovation contractors are receiving requests for. Rose Building Group is a premium renovation contractor that provides luxury home renovations in Oakville.
Must-Have Additions for Bathroom Renovations in Oakville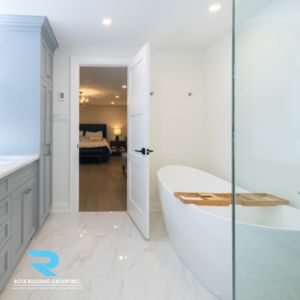 This year more and more people will be transforming their primary bathrooms to showcase warm, inviting colours and greater personality. Expect to see more creative details enter bathroom renovations in Oakville with wallpaper that will be more floral or old Victorian styles.
Unlacquered brass and matte aesthetics are also making an entrance as a luxury finish in bathrooms this year. While they're still a favourite, people are starting to move away from chrome and sterile all-white bathrooms. Meaning warm wood colours for vanities and cabinets are also being more welcomed. Patterned tiles are also returning as people invite herringbone and chevron tiles floors into their bathrooms.
Timeless Bathroom Features
Home renovation contractors are still seeing a demand for the timeless classics in bathroom remodels for 2023. The stand-alone bathtub is still a timeless classic that is in demand for the luxurious essence it exudes. People continue to love the effects of marble in their bathrooms, but we will see a shift of more homeowners adding colourful Zellige tiles to their bathrooms.
Terrazzo has also been incorporated onto bathroom floors more recently.
Mirrors of unique shapes with attractive borders are also becoming a centerpiece in bathrooms. Expect intricate brass mirrors or round mirrors that deliver a soft touch to the bathroom as opposed to the harsher designs of years prior.
Subway and penny tiles are also timeless bathroom classics that are here to stay and can be incorporated well with all of the recent trends entering the market. These tiles have stood the test of time and have been used for decades, and are still being incorporated into luxury bathrooms today. Penny tiles are great for both floors and walls and provide an elevated level of appreciated luxury and detail to every bathroom.
This year bathrooms will be showcasing more colour, more personality and creativity, and it will be an exciting time for homeowners to create a much more warm and welcoming space.
Rose Building Group for Luxury Bathroom Renovations
Rose Building Group is a premium renovation contractor with a strong reputation surrounding exquisite home transformations. When homeowners work with Rose Building Group, they know they will receive services from talented professionals who pay attention to the finest details to ensure every project is completed to perfection and the highest levels of customer satisfaction. If you want to embark on your home transformation journey and bring your ideas to life, contact the Rose Building Group team of knowledgeable experts today.