Deluxe Bathroom Renovations in Oakville
Uncover Your Dream Bathroom | Modern Designs | Chique Add-ons
Are you looking to reduce clutter and make your bathroom your peaceful oasis?
At Rose Building Group, we'll help you design, plan and make your dreams come true. With high-quality materials, experienced professionals, and competitive prices, we know you'll love your bathroom renovation in Oakville.
It's Time to Revolutionize Your Bathroom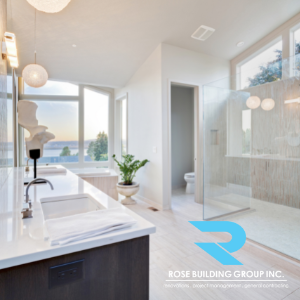 Renovate your space for luxurious upgrades and add-ons that will make your bathroom a well-functioning, beautiful place. Whether you want extra storage space or a luxurious bath tub with gold faucets, Rose Building group is your best choice when choosing a bathroom remodeling contractor in Oakville.
With over 14 years of experience and customer service as our centerpoint, we can transform your bathroom into a space that you'll never want to leave.
At Rose Building Group, we only hire the best professionals with years of expertise. We offer various renovation services including:
New vanities or customized cabinetry
Replacement of any outworn or faulty plumbing
New drywall
Electrical fixture and device installation
New ventilation fan
Mold remediation
And much more!
Stop envisioning your new bathroom and start your renovation today!
Different Ways You Can Upgrade Your Bathroom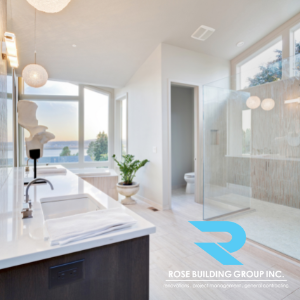 Change Your Layout: Do you want more open space in your washroom? Is there unnecessary framing holding you back from achieving an open-concept, spa-like room? From demolition down to the drywall, your bathroom layout can be changed no matter how big or small. Walls can be painted to match the aesthetic of your new renovations, as well as add-ons to complete the look.
Upgrade Your Flooring: Is your flooring aged and out of style? Transform your area with new flooring that will make your bathroom pop! Upgrade to heated floors for cold winter mornings and nights or choose to add new tiles with various colour and style options. Your new flooring can completely change the look and ambiance of your washroom, giving a sense of bliss when you walk in. Feel cozy in your new bathroom with flooring upgrades at Rose Building Group.
Design: There are so many ways to switch up the design of your bathroom that will leave it feeling refreshed and in-style. Refresh your space with wallpaper, curtains, mirrors, plants or decor. Perhaps you want to upgrade to a larger, more lush tub with extravagant faucets and jets. No matter what option you choose, there are many ways to amplify your washroom with contemporary or modern designs to leave your room looking brand new and polished!
Add Extra Storage: Adding extra storage is an amazing way to reduce clutter, organize your products, and keep your washroom looking its best. When you have little to no storage space, your items don't have a spot to go and can make your counter top or under your sink very messy and unorganized. Revamp your modern washroom with Rose Building Group for incredible storage that allows every bathroom item to have its designated space.
Upgrade your bathroom today!
Why Choose Rose Building Group for Bathroom Renovations in Oakville?
From start to finish and implementation to completion, we're there for you along the way. With top technicians experienced in planning and design, you can renovate your bathroom stress-free.
At Rose Building Group we offer:
We use the top-tier technology and materials
Expert experience
One-year after care warranty
We're there from start to finish to help with planning and designing
Our team cleans up after the job - so you can start using your bathroom right away!
Contact Rose Building Group to get started on your bathroom renovations in Oakville today!