5 Elements That Make or Break Your Kitchen Remodel
Posted on September 23, 2022
The best kitchens are multi-purpose and practical for your life. That's why, when planning your kitchen renovation in Burlington, you must find a balance between creativity and balance. The sooner in your project that you review your vision with home renovation contractors in Burlington, the better results you'll find from your home renovation project.
Experienced Burlington home renovation contractors like Rose Building Group can help you to create a kitchen that's not just aesthetically appealing but functional addition to your home. By planning practically and avoiding these common pitfalls, you and your contractor will be on the right track.
Here are some elements that will make or break kitchen renovation.
Make it: Space & Storage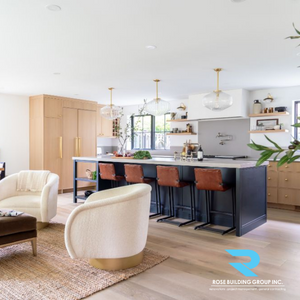 When you complete your gorgeous kitchen, you want to make sure it makes your life easier. You'll thank yourself later when you have ample room to move around and even comfortably fit more than one person at a time. Likewise, having accessible storage space will make it easier to get things done in your kitchen and can make tidying up much less complicated. Create a system for yourself that's tailored to your needs so you can always remember where things go and find them as needed. Talk to your contractors at Rose Building Group about creating hidden storage opportunities to maximize your kitchen space.
Break It: Excess Colours & Patterns
It's never a bad thing to embrace your inner maximalist, but if you go against minimalist trends for a vibrant kitchen renovation, it's essential not to go overboard. Overloading your kitchen with textured walls, bright paint colours, and eccentric patterns can leave your kitchen feeling overwhelming. This can be hard to turn around after you've completed your renovation. The last thing you want is to call in another Burlington home renovation contractor to undo what you did on the previous renovation. The kitchen renovation team at Rose Building Group recommends a single textured accent wall for impact.
Make it: Easy to Clean Surfaces & Flooring
Kitchens are prone to spills, despite how careful you are, so proactively deciding on easy-to-clean surfaces will save your future self a lot of time and hassle. If you also decide on floors like large tiles or even kitchen hardwood, you can say goodbye to tedious daily cleaning and mopping.
Break It: The Wrong Backsplash Size
The backsplash can be a fun space to let your creativity fly, but that doesn't mean you can choose just any backsplash. Finding the correct size backsplash will help it fit more seamlessly within the space and make it a more significant selling point when you put your home on the market. The Rose Building Group team can help find which backsplash works best for your space without sacrificing your unique style.
Make It: Multi-Purpose Island
To make your kitchen renovation functional for everyday life, introduce elements that will serve various purposes. A kitchen island is a smart multi-purpose addition that home renovation contractors recommend in Burlington. From additional counter space for cooking prep to quick inconspicuous storage space and a breakfast nook, an island helps get the most out of your kitchen space.
Break it: Open Shelf Storage
Open-shelf storage may seem like a simple solution to your storage needs, but it can be a hassle. Keeping your storage items neat at all times can be pretty time-consuming, as is cleaning an open storage space since you'd have to remove every item, clean it, and then put everything back just so. By creating closed storage spaces, you can give your kitchen a clutter-free look that's much easier to maintain.
Start Your Kitchen Renovation in Burlington
Renovating a kitchen can be hard work, even in the planning stage. That's why having a team of contractors like the one at Rose Building Group can help you save time, stress and money!