Kitchen Renovations in Burlington
Modern Layouts & Designs | Transform Your Kitchen | Lavish Customizations
Are you ready to experience the kitchen you've always dreamed of?
At Rose Building Group, we have over 14 years of experience designing, planning, and renovating homes as one of the top kitchen remodelers in Burlington. We offer customizable designs and layouts, competitive pricing, and a team of expert technicians to get the job done right. With a kitchen renovation in Burlington, you'll fall in love with your new cooking area in no time.
Revolutionize Your Kitchen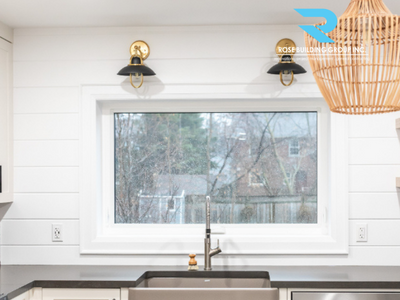 Do you want a functional, spacious, and bright kitchen? Your dream kitchen is right around the corner with high-quality materials and a team of professionals. Anything is possible with kitchen renovations in Burlington, from cabinets to countertops and hardwood to tile flooring.
At Rose Building Group, our technicians are certified and highly experienced in kitchen renovations and customizations. We offer a variety of services, including:
Beautiful upgrades
Quartz countertops
New backsplash
Flooring refurbishment
Plus so much more!
Ways You Can Upgrade Your Kitchen
Regardless of the size of your kitchen, anything is possible. We are experienced in small kitchen renovations, including enhancing functionality and storage space.
Customized Designs: We want to help you create a space that emulates your vision. Bring your kitchen space to life with bright colours, open layout designing, an island, or a peninsula. At Rose Building Group, the possibilities for customized designs are endless.
Lighting: With the many lighting options, finding the perfect lighting for your kitchen can be tricky. For a modern kitchen, contemporary or transitional lighting is the best option. Add accent lighting or pendant lights to pull the kitchen together. Depending on your chosen lighting, you can take your kitchen renovation to the next level.
Functional Storage: Smaller kitchens can be more challenging to organize and keep tidy with limited storage space. At Rose Building Group, we offer small kitchen renovations that can completely change the look and feel of your space. You can say goodbye to mess on the countertops with designated storage and cabinets.
Wall, Ceiling & Floor Makeover: While renovating, why not change your floors, ceiling and walls too? Different materials and styles used for each can drastically change the look of your kitchen. Upgrade to modern tile floors, freshly painted walls, and a new ceiling.
It's time to upgrade your kitchen!
Choose Rose Building Group for Kitchen Renovations in Burlington
The kitchen is the heart of any home, and what better way to enjoy your space than customized renovations? From lighting to flooring and layouts to remodelling, there are unique options for everyone. When choosing the right team for your home renovations in Burlington, it's essential that you select a reliable and trustworthy company that has experience under its belt. At Rose Building Group, we are dedicated to finishing the job and leaving you with a clean and beautiful renovation based on your specific timeframe.
At Rose Building Group, we:
Are a team of highly experienced & skilled technicians
Take care of city permits and always build to code
Offer one-year after-care warranty
Always focus on cleanliness
Provide WSIB coverage
And more!
Get started on your dream kitchen.